Danske Bank CEO quits in $234 billion money laundering scandal
Comments
By Reuters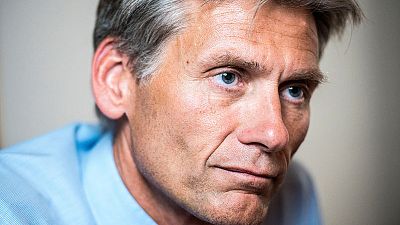 By Jacob Gronholt-Pedersen and Teis Jensen
COPENHAGEN (Reuters) – Danske Bank's chief executive Thomas Borgen quit on Wednesday in a money laundering scandal which involved 200 billion euros (£178 billion) flowing through its Estonian branch between 2007 and 2015, most of which was suspicious.
"It is clear that Danske Bank has failed to live up to its responsibility in the case of possible money laundering in Estonia. I deeply regret this," Borgen said in a statement.
Danske Bank said its investigation into the affair concluded that Borgen, Chairman Ole Andersen and the board of directors "did not breach their legal obligations towards Danske Bank".
Regulators and the financial community had eagerly awaited the Danske Bank report, which marks a critical milestone for the Danish lender and follows calls by Brussels for a new European Union watchdog to crack down on financial crime.
Investor uncertainty has seen a third of Danske Bank's stock market value wiped out in the last six months, mainly driven by concerns over the possible involvement of U.S. authorities.
The U.S. earlier this year accused Latvia's ABLV of covering up money laundering and the bank was promptly denied U.S. dollar funding, leading to its collapse.
While Danske does not have a banking licence in the United States, banning U.S. correspondent banks from dealing with it would amount to shutting it out of the global financial network.
The bank, whose shares fell as much as 5 percent following the release of the report, also lowered its expectations for annual net profit to 16-17 billion Danish crowns, from a previous range of 18-20 billion.
(Reporting by Jacob Gronholt-Pedersen and Teis Jensen; editing by Jason Neely and Alexander Smith)