Ocado quarterly sales growth slightly lower, in line with full year guidance
Comments
By Reuters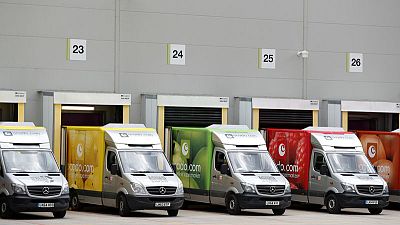 -
LONDON (Reuters) – Online supermarket Ocado said retail sales growth slowed a touch in its latest quarter, though it was in line with the group's guidance for the full year.
The group is ramping up distribution capacity in Britain, and opened its fourth robotic warehouse this summer at Erith, near London.
Ocado said Erith processed over 20,000 customer orders last week, 14 weeks after opening, a number that its third warehouse, in Andover, southern England, took 15 months to achieve.
The group said retail revenue rose 11.5 percent to 348.6 million pounds in the 13 weeks to Sept. 2, its fiscal third quarter, having risen 11.7 percent in the first half.
In July Ocado forecast retail revenue growth of 10-15 percent for the full 2018 year.
In the third quarter average orders per week rose 11.4 percent to 283,000, while average order size was flat at 106.26 pounds.
Shares in Ocado have rocketed more than 200 percent over the last year thanks to four major overseas technology partnership deals, the latest with U.S. supermarket chain Kroger. The stock closed Monday at 912.6 pence, valuing the business at 6.1 billion pounds.
Prior to Tuesday's update analysts' average forecast was for Ocado to make a 2018 pretax loss of 30 million pounds and core earnings (EBITDA) of 73 million pounds. That compares with a loss of 500,000 pounds and core earnings of 84.3 million pounds in 2017.
As at Sept. 2 the company had cash and cash equivalents of 406.1 million pounds and borrowings of 281.2 million pounds.
(Reporting by James Davey; editing by Sarah Young and Kirsten Donovan)