Euro zone banks have more work to do on soured debt - Draghi
Comments
By Reuters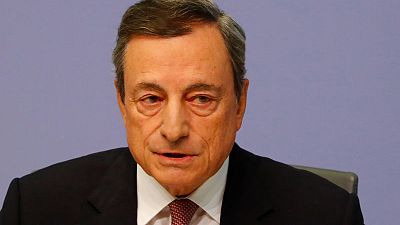 -
FRANKFURT (Reuters) – Euro zone banks need to cut their stock of soured debt further to boost lending and improve profitability to make themselves more attractive to suitors, European Central Bank President Mario Draghi said on Tuesday.
"Banks with high levels of legacy assets have… kept their lending low as their ability to build up capital is limited," Draghi told a conference in Paris. "Similarly, low profitability and uncertainty regarding the valuation of legacy assets reduce the appeal of cross-border M&As."
Reducing the stock of non-performing loans has been one of the top priorities of the ECB and soured loans are down by about a third from their peak at around 1 trillion euros but remain significantly higher than in the U.S.
(Reporting by Balazs Koranyi; Editing by Francesco Canepa)