Red Bull expect Verstappen to start from the back in Russia
Comments
By Reuters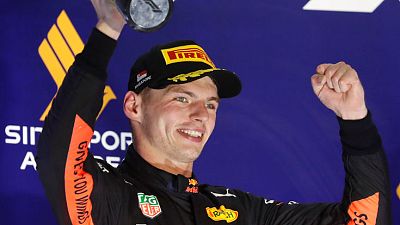 -
LONDON (Reuters) – Max Verstappen finished second for Red Bull in Singapore on Sunday but he can expect Formula One's next race in Russia to be a hard slog from the rear of the field due to engine penalties.
Team principal Christian Horner said the Dutchman would likely switch to an older engine specification after a series of problems at the weekend.
"Sochi will be one to forget for us," Horner told Sky Sports television. "I think we are probably going to be starting at the back. But then we've got some good ones coming up."
He singled out Mexico, where Verstappen won last year, as a probable highlight among the six races remaining for a team who are switching to Honda power next season and look sure to finish third overall in 2018.
Verstappen complained of engine problems throughout the Singapore weekend but managed to keep Ferrari's Sebastian Vettel behind him after coming out almost alongside the German after his pitstop.
That was only after his car almost stalled in the pitlane, however.
"I think we maximised the result with the problems we had with the engine," the Dutchman, who had started on the front row alongside race winner Lewis Hamilton, told reporters.
"I was very happy the safety car was gone because I was almost stalling on the track, even my pit stop was not great.
"I don't know which track will come up maybe as good again. Maybe Mexico a little bit, but we lose a lot on the straight, so I'm not expecting it to be like last year but you never know."
Verstappen was fifth in Sochi last year but that race was held in April rather than late September.
(Reporting by Alan Baldwin, editing by Christian Radnedge)