Oil prices ease as trade row clouds demand outlook
Comments
By Reuters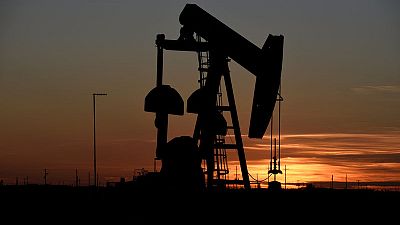 -
BEIJING (Reuters) – Global oil prices eased in early Asian trading on Monday on concerns that the United States is poised to impose additional tariffs on China, outweighing supply fears from upcoming sanctions on Iran.
Brent crude oil futures <LCOc1> dipped 16 cents, or 0.2 percent to $77.93 a barrel by 0035 GMT.
U.S. West Texas Intermediate (WTI) futures <CLc1> fell 20 cents or 0.3 percent, to $68.79 a barrel.
"The market's expectation of shortages has cooled after data from last week showed increases in supplies, while investors have lowered the outlook for oil demand," said Wang Xiao, head of crude research with Guotai Junan Futures.
U.S. President Donald Trump is likely to announce new tariffs on about $200 billion on Chinese imports as early as Monday, a senior administration official told Reuters on Saturday.
The escalating trade row is raising concerns about the potential for slower growth in oil consumption, offsetting supply concerns stemming from upcoming U.S. sanctions on Iran over its nuclear programme.
Refiners in India, Iran's second largest crude buyer will cut their monthly crude loadings from Iran for September and October by nearly half from earlier this year.
Also weighing on oil prices, U.S. drillers added two oil rigs in the week to Dec. 1, bringing the total count up to 749, the highest since September, General Electric Co's <GE.N> Baker Hughes energy services firm said in its closely followed report on Friday. <RIG-OL-USA-BHI>
(Reporting by Meng Meng and Aizhu Chen; editing by Richard Pullin)