Nigeria hits back at HSBC after bank warns of economic stagnation
Comments
By Reuters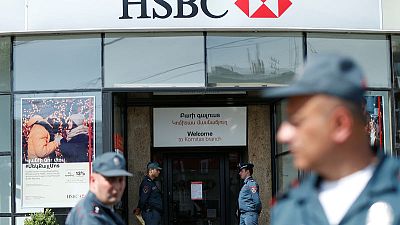 -
By Felix Onuah
ABUJA (Reuters) – Nigeria has accused HSBC <HSBA.L> of laundering money for one of the country's former rulers, hitting back at a research note by the global bank that suggested a second term for President Muhammadu Buhari risked prolonging economic stagnation.
HSBC declined to comment on the allegation late on Saturday by the Nigerian presidency that the bank had laundered more than $100 million for former military dictator Sani Abacha.
Buhari plans to seek a second term in office at an election next February, which has created a rift within his ruling party, as some of his supporters quit to join the opposition.
An HSBC research note dated July 18 said a second Buhari term "raises the risk of limited economic progress and further fiscal deterioration, prolonging the stagnation of his first term, particularly if there is no move towards completing reform of the exchange rate system or fiscal adjustments that diversify government revenues away from oil."
In response, the presidency said what had "killed" the economy in the past was "unbridled looting of state resources by leaders, the type which was actively supported by HSBC."
The presidency said the bank had "no moral right whatsoever" to assert that another Buhari term risked limited economic progress.
Abacha stole as much as $5 billion of public money during his five years running Africa's top oil producing country from 1993 until his death in 1998, according to the corruption watchdog Transparency International.
In 2016, Buhari urged the World Bank to assist in the repatriation of $320 million stolen by the former military leader, which is being held by authorities in Switzerland.
Growth in Nigeria has returned after the economy entered into its worst recession in a quarter of century in 2016. However, the economy is still fragile, with high unemployment and weak infrastructure.
Inflation started to rise in August, the statistics office said after slowing for 18 months.
Buhari took office in 2015 after an election campaign largely fought on his vow to fight corruption, but his detractors have accused him of failing to investigate allies accused of wrongdoing.
The presidency said on Saturday the entities that aided corruption were under investigation for various offences.
Two former allies of Buhari now in opposition, including Senate leader Bukola Saraki, and several others have declared their intention to challenge the president in next year's vote.
(Additional reporting and writing by Chijioke Ohuocha, and Lawrence White in London, Editing by William Maclean)