'Complete machine' Hamilton offers no comfort for Ferrari
Comments
By Reuters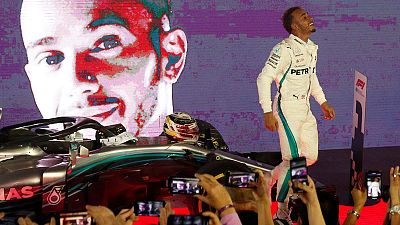 -
By Alan Baldwin
LONDON (Reuters) – Formula One champion Lewis Hamilton and Mercedes won big in Singapore on Sunday and the signs are looking ominous for title rival Sebastian Vettel and Ferrari.
The Briton's fourth victory in five races suggests that once again the 33-year-old is hitting a purple phase just as the season enters its critical stages.
"He just turns into a complete machine at this time of year," marvelled Mercedes technical head James Allison after Hamilton stretched his lead to 40 points with six rounds remaining.
"His focus and his enjoyment, and just everything about him, lifts to a level that is brilliant to watch."
Last season Hamilton went on a run of five wins in six races in the second part of the season before wrapping up his fourth title in Mexico with two races to spare.
While Vettel was favourite to reduce the points gap on Sunday at a circuit that should have suited Ferrari, Hamilton sowed the seeds of victory with a stunning qualifying lap for pole position.
Mercedes team boss Toto Wolff hailed that as "the best lap I've ever seen in a Formula One car" while Hamilton himself described it as 'surreal'.
The race was no thriller, with Vettel third and the top six finishing in starting order, but the outcome still delivered a hammer blow for Ferrari, whose immediate public response had a distinct whiff of sour grapes.
"Boredom the winner in Singapore," the team website declared in a headline over their race report. It was later modified to read "positions unchanged", but the sting was clear.
Ferrari are hurting and they are running out of time to do anything about it, even if many suspect them of having the faster car.
'SPECIALMOMENT'
Sunday, as Hamilton said in his post-race news conference, might have left "a couple of people snoring" but it was also "a special moment" for him and Mercedes, who were taking nothing for granted.
They know one retirement can throw everything up in the air, but the champions are certainly breathing easier than might have been the case.
"It feels significant, not for the championship but it feels significant because we have understood the car in Singapore," said Wolff.
"It was won on merit and real pace and I think we have the right clues now and let's see how we can translate that into the end of the season."
If Hamilton is fast approaching the point at which he can secure a fifth championship without having to add to his tally of seven wins for the season, he was quick to recognise the credit is not his alone.
Singapore was once a track where Mercedes struggled, with overtaking difficult and grid position all important, but they have worked hard to address their weaknesses in slow-speed corners.
"We've been just chipping away at it over the last 12 months, but with a massive amount of effort because it's quite a big thing you have to change in order to do it," Allison told Sky Sports television.
"It's just a real delight to come here now. Lewis got the job done but we gave him a car he could do that with and that's a huge source of pride to all of us."
(Reporting by Alan Baldwin, editing by Christian Radnedge)