As its trading debut looms, China's Meituan locked in battle of super-apps
Comments
By Reuters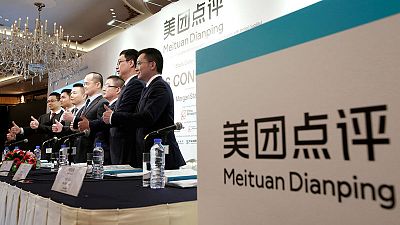 -
By Pei Li and Adam Jourdan
BEIJING/SHANGHAI (Reuters) – Meituan Dianping, which raised $4.2 billion (3.2 billion pounds) in its Hong Kong IPO, is one of China's super-apps, with 340 million users ordering groceries, paying bills, renting bikes and booking hotels – but it is far from alone.
The delivery-to-ticketing platform, backed by internet giant Tencent Holdings Ltd, is squaring off with Alibaba Group Holding Ltd-backed rivals including Alipay, Ele.me and Koubei as well as Tencent's own WeChat.
This battle of the super apps – which offer users a plethora of disparate services – creates a challenge for the company ahead of its public float this month. On Thursday it set an aggressive valuation of $52.8 billion.
To justify its price tag, Meituan will need to lure in cost-conscious consumers like Wu Lingli, 22, a student in Wuxi.
"Generally it's all about price," said Wu, who jumps between Meituan and rivals Ele.me, Didi, Taobao and others when shopping online. "If the product is the same then I'm definitely just looking at price; I'll go wherever is cheaper."
The company is coming to market as China's tech sector faces something of a downturn, with investors questioning sky-high valuations. Tencent and Alibaba, along with recent listings like Xiaomi Corp, have seen their shares sink this year.
Meituan Dianping, like many of China's fast-growing tech firms, has had to burn cash to keep ahead of rivals, both to subsidize shoppers and add new services. It bought bike-sharing firm Mobike for $2.7 billion this year, an expensive acquisition that is straining its margins.
Its wide variety of services has attracted users, but crimped profits. The company lost 22.8 billion yuan ($3.33 billion) in the first third of this year, despite a big jump in revenue. It lost about $2.8 billion in 2017.
Alibaba, meanwhile, has been beefing up its offerings, snapping up food delivery service Ele.me and Baidu Waimai, which it plans to roll together with its lifestyle services app Koubei.
Its affiliated payment app, Alipay, which has more than 500 million users, already bundles shopping and travel.
WeChat also offers shopping, ticketing and food delivery, while Meituan's push into hotel booking and ride sharing has pitted it against firms like Ctrip and Didi Chuxing, both dominant in their fields.
PRICEWARS
Meituan Dianping sees room for growth. Citing a report from iResearch, it estimates China's consumer service e-commerce market will grow to 8.01 trillion yuan ($1.17 trillion) by 2023, almost three times the size of the market last year.
"In the short term there will be turbulence, but in the long run I expect (Meituan's) valuation to exceed $100 million," said Li Chengdong, a Beijing-based tech analyst.
"The reasoning is simple: the position that Meituan has in food and amusement services is similar to Alibaba in e-commerce, but even more solid," Li added. "The market is big enough."
The battle for that market is playing out on China's streets, with Meituan's fleet of yellow-and-black-clad couriers competing against an army of blue-wearing Ele.me workers and red-uniformed Baidu takeaway crew.
Meituan has already survived a subsidy war, but pricing – especially in food delivery – remains central.
On rival Ele.me's app, prominent banners offer "50 percent off" yellow rice cakes, "delivery starting from 0 yuan" and "special prices" on home delivered crabs. Meituan's take-away platform has similar deals.
"The question will be, when you stop subsidizing these items, how many people can afford it?" Jane Sun, chief executive of Chinese online travel platform Ctrip, told Reuters in an interview in Beijing. "That's the challenge for any company who is using cash rebates to gain customers."
Launched in 2010 in Beijing, Meituan initially was a Chinese Groupon clone, offering discounts and group buying. It was founded by Wang Xing, who left graduate school at the University of Delaware to start businesses in China.
Before Meituan, Wang set up Xiaonei.com and Fanfou, Chinese equivalents of Facebook and Twitter. Xiaonei was sold, while Chinese regulators eventually blocked Fanfou over sensitive content.
In 2015 Meituan completed a $15 billion merger with rival Dianping, akin to U.S. online review firm Yelp Inc.
Meituan Dianping's ambitions now rely heavily on food, which accounted for 62 percent of the company's revenue last year, according to its prospectus.
"We believe eating is the basic need for everybody, and also the most frequent need as everybody needs three meals a day. It is the absolute inelastic demand," Wang said an IPO news conference this month.
Its long-term success, though, will require keeping users like Hou Chenchen on its platform outside meal times.
Hou, 21, a student in Shanghai, says she uses Meituan for many things: food, taxi hailing, finding restaurants, buying tickets and even karaoke. She spends about 1,000-1,500 yuan a month on similar apps.
But like many of her peers, she's not hugely loyal and her choice is almost always driven by deals, she says.
"Today for example I ordered a take-away dessert and the same product was just more expensive on Meituan," she told Reuters. "So I ordered it on Ele.me instead."
(Reporting by Pei Li in BEIJING and Adam Jourdan in SHANGHAI; Additional reporting by Shanghai newsroom; Editing by Gerry Doyle)