In hindsight, drop goal should have been attempted, says NZ's Hansen
Comments
By Reuters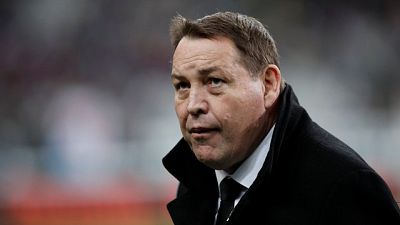 -
WELLINGTON (Reuters) – All Blacks coach Steve Hansen proved that hindsight is always perfect on Sunday and said his side probably should have taken the opportunity to attempt a drop goal to win their Rugby Championship clash with South Africa on Saturday.
The world champions were upset 36-34 by the Springboks at Wellington Regional Stadium, a result that kept the Rugby Championship alive and showed the All Blacks were fallible after three big wins in the first three rounds.
Hansen's side, however, could have snatched a dramatic victory at the end of the game when they eschewed several opportunities to attempt a drop goal as they hammered away at South Africa's line.
"Should we have drop kicked a goal? Of course we should have," Hansen told reporters on Sunday. "We had plenty of opportunities and we organised ourselves.
"It's not something we don't have in our back pocket, because it is.
"That's a (lesson) and a game management thing that this team has to go through and this will be a massive opportunity for this team to grow."
The decision not to take the drop goal option, despite both Beauden Barrett and Damian McKenzie being in position to attempt it, led to finger-pointing by rugby-mad New Zealand fans, who have still not forgotten a similar decision during their 2007 Rugby World Cup quarter-final loss to France.
The All Blacks, however, have consistently said that 20-18 loss was the catalyst for their entire philosophy and team culture since, which has led to a success rate in excess of 80 percent and World Cup wins in 2011 and 2015.
It was also undoubtedly why South Africa coach Rassie Erasmus expected the option would be in their playbook at next year's global showpiece.
"I guess it was an option to score but that is not the New Zealand way," said Erasmus. "Maybe in a World Cup, Beauden would do that. But not in a (Rugby) Championship game."
While Barrett had a shocking performance off the tee with only two successful shots at goal from six attempts, Hansen said that and the drop goal were not the reasons why they lost to the Springboks.
Leaking five tries, two from simple errors, was a major contributor as was not being able to break down a staunch Springboks defence in the final 10 minutes.
It was that final 10 minutes of the loss, however, that Hansen suspected would be invaluable for his team heading into next year's tournament in Japan.
"With 10 minutes to go we could've won it twice over," Hansen said. "We had plenty of opportunities, we just didn't close it out.
"And there's the biggest (lesson) — what have we got to do when the clock's running down (and) the scoreboard's against us?
"We've just got to take a big breath and do things right and be clinical and, if we'd done that last night, we would've won the game.
"But we didn't."
(Reporting by Greg Stutchbury; Editing by Amlan Chakraborty)