Deutsche to shift more assets to Frankfurt, ringfence UK operations after Brexit - source
Comments
By Reuters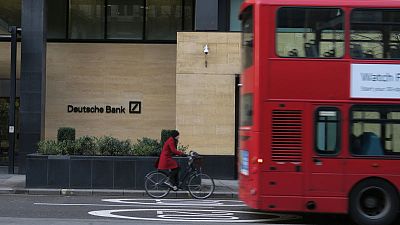 -
FRANKFURT (Reuters) – Deutsche Bank <DBKGn.DE> is considering shifting large volumes of assets from London to Frankfurt after the UK's planned exit from the European Union next year to meet demands from European regulators, a person close to the matter said on Sunday.
Deutsche will also transform its UK arm into a ringfenced subsidiary after Brexit and reduce the size and complexity of its British operations, the source said.
The Financial Times reported earlier on Sunday, citing people familiar with the thinking of the bank's executives, that Deutsche could eventually move about three-quarters of its estimated 600 billion euros in capital back from London to its headquarters.
No final decision has been made on the size of the asset move, it added.
Deutsche Bank and the ECB declined to comment.
According to the Financial Times, one option being considered is to shrink the size of the London balance sheet so it ends up smaller than its U.S. holding company, which has roughly $145 billion of assets.
Any large-scale transfer of assets would not happen overnight, but would take between three and five years or even longer, the paper reported, adding that setting up a ringfenced UK subsidiary would potentially cost Deutsche hundreds of millions of euros.
(Reporting by Arno Schuetze; Editing by Jan Harvey)