Trump administration to send U.S. cellphones a test alert on Thursday
Comments
By Reuters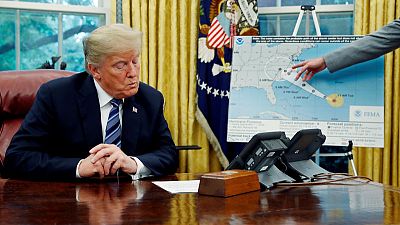 WASHINGTON (Reuters) – The Trump administration will send a test message to all U.S. cellphones on Thursday for a new alert system that aims to warn the public about national emergencies.
The messages will bear the headline "Presidential Alert", the Federal Emergency Management Agency (FEMA), which will send the message, said in a statement earlier this week.
Former President Barack Obama signed a law in 2016 requiring FEMA to create a system that lets U.S. presidents send cellphone alerts regarding public safety issues like natural disasters and "terrorism."
The latest announcement about the alert comes amid a flurry of tweets from President Donald Trump's personal Twitter account in recent days regarding Hurricane Florence. The dozens of tweets forwarded safety tips and applauded his administration's efforts and the work of first responders.
The test alert, whose date the Trump administration announced in July, will come at a politically sensitive time: about two months before congressional elections on Nov. 6.
U.S. cellphone users will not be able to opt out of the alert system. The test message on Thursday is scheduled for 2:18 p.m. EDT and will read: "THIS IS A TEST of the National Wireless Emergency Alert System. No action is needed."
The White House did not immediately respond to a request for comment on its role in planning the test alert.
The administration will also send a test alert via radio and television broadcasters two minutes after the cell phone alert, part of a system long in use for alerts on severe weather and other emergencies. It will interrupt programming for approximately one minute, FEMA said.
(Reporting by Jason Lange and David Morgan in Washington; Editing by Chizu Nomiyama)