Congo will declare cobalt and other minerals as 'strategic' in coming days - mines minister
Comments
By Reuters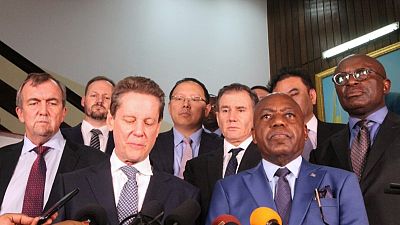 By Amedee Mwarabu
KOLWEZI, Democratic Republic of Congo (Reuters) – The prime minister of Democratic Republic of Congo will sign a decree in the coming days to designate cobalt and other minerals as "strategic" and therefore subject to higher royalties, Mines Minister Martin Kabwelulu said on Saturday.
The change is part of a new mining code, which mining companies including Glencore <GLEN.L> and Randgold <RRS.L> oppose as it axes tax exemptions and hikes royalties and profit taxes. They have been holding out the hope it might be watered down in further negotiations.
The government has not yet formally announced which metals will be classed as strategic in the new code and subject to royalties of 10 percent. Before the code was introduced, companies paid a rate of 2 percent for cobalt.
Addressing a mining conference in the copper and cobalt-mining city of Kolwezi, Kabwelulu said: "in the coming days, you will see the prime minister sign a decree to declare cobalt and certain other substances as strategic."
Miners of cobalt would have paid a royalty of 3.5 percent under the new code if its designation had stayed the same.
The government considers minerals with the "strategic" designation important for the economic, social and industrial future of the country.
The new code came into effect in June. Companies say its tax hikes and cancelling of 10-year exemptions for existing projects against changes to the previous fiscal and customs regimes breach previous agreements with the government and will deter further investment.
Kabwelulu said all companies were paying the royalties and taxes as stipulated by the new code, despite Randgold saying in August it was still negotiating with the government. [nL5N1V06J0
"I know that Randgold made a statement, but it's not true," he said.
Congo is Africa's top copper producer and the world's leading miner of cobalt, a mineral which has seen a surge in demand to the manufacture of electric car batteries and mobile phones.
Other major mining companies with investments in Congo include AngloGold Ashanti <ANGJ.J>, Ivanhoe Mines <IVN.TO>, China Molybdenum <603993.SS>, Zijin Mining <601899.SS> and MMG <1208.HK>.
(Writing by Alessandra Prentice; Editing by Angus MacSwan)