Leading Carige investors told to seek regulatory clearance over stake
Comments
By Reuters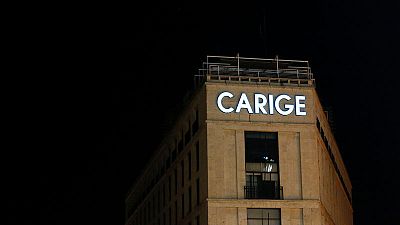 -
MILAN (Reuters) – Three leading investors in Italy's Carige <CRGI.MI> will have their voting rights capped at 10 percent at a key shareholder meeting next week unless they gain regulatory clearance for the their combined 15.2 percent stake, the bank said.
Carige, Italy's last remaining large problem bank, holds a shareholder meeting on Sept. 20 to elect a new board and try to solve a governance crisis that has irked European Central Bank supervisors.
Carige's top shareholder, local businessman Vittorio Malacalza, is seeking to oust CEO Paolo Fiorentino after pushing out his two predecessors over the past four years.
A regulatory filing on Thursday showed Malacalza, who has become the single largest investor in Carige after backing three successive cash calls since 2014, had further raised his stake to 27.56 percent.
Malacalza has submitted a list of board nominees proposing to replace Fiorentino with UBS banker Fabio Innocenzi.
Pitted against Malacalza are three prominent shareholders in Carige led by Italian financier Raffaele Mincione.
They together hold 15.2 percent of Carige and have agreed to jointly back a separate list of board candidates aiming to keep Fiorentino in his job.
Carige said in a statement on Thursday night it had received a letter from the Bank of Italy saying the regulator had informed the three shareholders they lacked the authorisation needed for a banking stake larger than 10 percent.
The three investors now have 15 days to obtain the necessary clearance or they won't be able to exercise their voting rights for the part exceeding the 10 percent threshold, it said.
(Reporting by Valentina Za; Editing by Mark Potter)