Japan's Abe gets middling marks on his economic performance from analysts - Reuters poll
Comments
By Reuters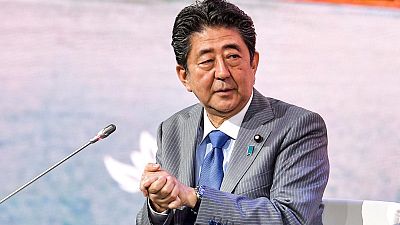 -
By Kaori Kaneko
TOKYO (Reuters) – Economists are giving Japanese Prime Minster Shinzo Abe middling marks on his economic accomplishments, a Reuters poll showed, crediting him with boosting female worker participation but giving him a poor score for production revolution.
Asked to grade Abe on a scale from zero to 100, 29 analysts gave him an average score of 58 points, with most clustered between 50 and 70 points. That suggests they believe he's doing modestly well, making more progress than failing – but not doing an outstanding job, either.
During nearly six years in power, Abe has sought to steer Japan's economy through a three-pronged policy mix dubbed "Abenomics" of super-loose monetary policy, massive fiscal spending and a growth strategy that includes structural reforms.
Economists were also asked to each pick three areas of success in the Sept. 5-13 poll, and "encouraging more women to work" got the most votes from 15 of 29 analysts polled. While more Japanese women have entered the workforce, many are part-timers, and female senior executives are still a rarity, a separate Reuters poll showed.
Analysts also said areas of success were "accepting foreign workers," with 12 votes, and "promoting economic partnerships," with 11 votes. Immigration is a delicate subject in Japan, but job shortages have prompted the government to announce plans for new five-year work permit categories for foreign workers in areas such as farming, construction and hotels.
Asked to identify Abe's most unsuccessful areas, 17 economists chose "production revolution", 13 picked "revitalization of rural areas" and eight each selected "strategic economic special zone" and "human resources investment", the poll showed.
Abe is expected to win an election for leader of his Liberal Democratic Party on Sept. 20, putting him on track to become Japan's longest-ruling prime minister.
If he wins, economists surveyed said his new government needs to focus on "medical, social security reform", "labour reform" and "productivity growth."
"It is difficult to proceed with fiscal reconstruction without medical and social security reform," said Harumi Taguchi, principal economist at IHS Markit. "Sustainable growth by improving productivity and to ease worries about the future by raising wages are also important to raise consumer spending."
INFLATIONANDGROWTH
Economists forecast that the core consumer price index, which excludes fresh food, will likely rise to 0.9 percent in the current fiscal year to March 2019, and the same rate the following year — stripping out the effects of a scheduled sales tax hike in Oct. 2019, the poll found.
The expected tax hike is seen hurting the economy, pushing down GDP to an annualised 3.5 percent contraction in the fourth quarter of 2019, the poll found.
One of Abe's main goals has been to lift Japan out of an extended deflationary rut, and the core CPI has gradually improved, reaching 0.8 percent in July. But that's still far short of the Bank of Japan's 2 percent target.
When the BOJ next changes policy, economists believe it will scale back its stimulus measures, not add to them – but most believe that won't come until 2020 or later, the poll showed.
In late July, the central bank pledged to keep its massive stimulus in place but made tweaks to reduce adverse effects of its policies on markets and commercial banks.
During Abe's tenure, the economy has managed to avoid falling into a recession, or two straight quarters of GDP contraction. But growth has generally been tepid and inconsistent.
Economists predict the economy will expand 1.1 percent this fiscal year and 0.8 percent the following year. Some economists responded to the survey before revised growth data, which showed the economy expanded at an annual pace of 3 percent in April-June, the fastest since 2016.
For the current, third quarter, analysts predict the economy will grow an annualised 1 percent, although Sumitomo Mitsui Asset Management Co. forecasts a 0.9 percent contraction.
"Industrial production and external demand is weak, partly affected by trade friction," said Akiyoshi Takumori, chief economist at Sumitomo Mitsui.
(Reporting by Kaori Kaneko; Polling by Khushboo Mittal; Editing by Malcolm Foster & Shri Navaratnam)