'Golden Girl' Coventry plans Zimbabwe's Olympic revival
Comments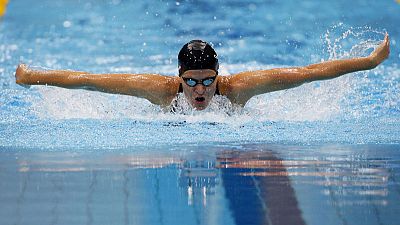 -
By Nick Said
HARARE (Reuters) – Zimbabwe's new minister of sport Kirsty Coventry believes the country needs to be more "strategic" in the development of Olympic athletes as she seeks to unlock the potential of the African nation on the global stage.
Former Olympic swimming champion Coventry, who will turn 35 on Sunday, was sworn in to her portfolio by president Emmerson Mnangagwa earlier this week in a surprise, but largely welcomed, elevation to the country's cabinet.
"Two important factors we need to consider if we are to improve our chances are obviously providing facilities and access to sport, and in this regard I think we need to be more strategic," Coventry told Reuters.
"The example I always use is that of Jamaica, who decided to focus on the 100-metre and 200-metre sprints, because they saw that as a strength, and they have done remarkably well.
"In Zimbabwe we need to be more deliberate about what our goals are and not try to spread ourselves thinly across a whole range of sports. We have to look at where we think we can do well and focus on that.
"That is not to say we will ignore other sports, of course not, but we need to have a clear plan of how we want to move forward."
Coventry is the most successful Olympian to emerge from the African continent with seven medals, including two goals, in the pool spanning five Games, with Zimbabwe's only other success a gold for their women's field hockey team in Moscow in 1980.
Dubbed the country's 'Golden Girl', she acknowledges that in a country where economic and political challenges have left sections of society polarised, her portfolio, that also includes the arts and the upliftment of youth, is vitally important.
"I firmly believe that sport breaks down barriers between people, and that it can bring a nation together in unity and pride. It transcends all sections of society, the older generation and the kids.
"It brings a sense of what is possible to people and it is very exciting for me to have the opportunity to unlock our potential across not just sport but the arts as well."
She plans to sit down in the coming weeks with the country's sporting federations, coaches, players and other stakeholders to listen to their challenges.
"I want to understand how we can better support our athletes and youth, because sport and the arts is also a vehicle for job creation, which is so important for Zimbabwe."
Coventry says she never had an ambition to go into government, but now that the opportunity has presented itself, is eager to make the most of it.
"I do believe that things are brought to you for a reason and that there is a bigger picture to what we are doing. Zimbabwe is a very exciting place at the moment with everything that is happening.
"I will do what I have always done, to try and inspire and uplift people. I know I will need to surround myself with a good team to achieve what we want to do. But I still see myself very much as just a person and not a politician."
Coventry has extensive experience in sports administration having been elected chairperson of the International Olympic Committee's Athletes' Commission earlier this year, and is also a member of the World Anti-Doping Agency's Athlete Committee.
She has served as vice-president of Zimbabwe National Olympic Committee and fulfilled the same role for the International Surfing Association.
"I will be staying in my IOC posts, it is very important for Zimbabwe that I do so. That is my background and my heritage," Coventry confirmed.
(Reporting By Nick Said; Editing by Amlan Chakraborty)
euronews provides breaking news articles from reuters as a service to its readers, but does not edit the articles it publishes. Articles appear on euronews.com for a limited time.