Austria, Italy propose holding migrants on ships for days
Comments
By Reuters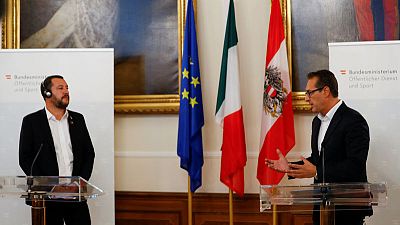 -
VIENNA (Reuters) – Austria and Italy's far-right interior ministers suggested on Friday that the European Union hold migrants rescued at sea on ships for days while an initial screening of their chances of obtaining asylum is carried out.
Far-right parties like Italy's League and Austria's Freedom Party have long pushed for a system where migrants rescued while attempting the dangerous Mediterranean crossing be taken back to Africa rather than brought to Europe, where they can stay while their asylum claims are processed.
"For those who manage to make it into a European state's territorial waters and are then picked up by a ship, we should use the ships to carry out the appropriate checks on whether they deserve protection," Austrian Interior Minister Herbert Kickl told a joint news conference in Vienna with his visiting Italian counterpart.
Italy has become the main route into Europe for hundreds of thousands of asylum seekers arriving by sea since the other main route from Turkey to Greece was largely shut in 2016. Although numbers have dropped over the past year, Italy's new populist government has made shutting down the route a policy priority.
Migration dominated last year's parliamentary election in Austria, which took in more than 1 percent of its population in asylum seekers in 2015. The conservative-led government has pledged to prevent another such influx, even if that means restricting border crossings from Italy.
Kickl's suggestion was aimed at offering an alternative to a proposal for "regional disembarkation platforms" at Mediterranean ports from where arrivals would be spread around the EU – a proposal that seems unlikely to be put into effect.
"You are well looked after on a ship," Kickl said at a migration conference he hosted, adding that after a screening that "should last a few days" those with no chance of asylum should be denied access to Europe.
His Italian counterpart Matteo Salvini said he backed the idea. Prosecutors in Sicily last week formally told Salvini that he was under investigation for "illegal confinement" following his refusal to let more than 100 rescued migrants disembark from an Italian coastguard ship.
The group were held on board for 10 days before Salvini finally allowed them off after Ireland, Albania and the Italian Catholic church agreed to take most of them in.
"I'm absolutely in favour. In fact, I was saying how ironic it was that having held a group of immigrants on a ship in an Italian port for 10 days, an Italian judge placed me under investigation for kidnapping," said Salvini, who is also deputy prime minister and heads the League party.
Separately, Salvini denied having reached a deal with Germany to take back migrants who had already applied for asylum in Italy, saying he wanted more concessions from Berlin.
He also likened African immigrants to slaves during a migration conference in Vienna, drawing an angry response from Luxembourg's foreign minister, who cursed at him in frustration.
(Reporting by Francois Murphy; Additional reporting by Crispian Balmer and Angelo Amante in Rome)