U.S. consumer prices rise modestly; jobless claims near 49-year low
Comments
By Reuters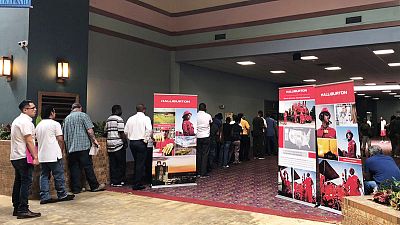 -
By Lucia Mutikani
WASHINGTON (Reuters) – U.S. consumer prices rose less than expected in August as increases in gasoline and rents were offset by declines in healthcare and apparel costs, and underlying inflation pressures also appeared to be slowing.
Despite the moderate consumer price increases last month, inflation pressures are steadily building up, driven by a tightening labour market and robust economic growth. Labour market strength was reinforced by other data on Thursday showing the number of Americans filing for unemployment benefits dropped last week to near a 49-year low.
"There is no reason to suspect that the weaker increase in consumer prices in August is the start of another dip like we saw in early 2017," said Paul Ashworth, chief U.S. economist at Capital Economics in Toronto.
"With labour market conditions tight, wage growth accelerating and input prices being pushed up by capacity constraints and recently imposed tariffs, there is plenty of upward pressure on prices."
The Consumer Price Index increased 0.2 percent last month after a similar gain in July. In the 12 months through August, the CPI increased 2.7 percent, slowing from July's 2.9 percent advance. Excluding the volatile food and energy components, the CPI edged up 0.1 percent. The so-called core CPI had increased by 0.2 percent for three straight months.
In the 12 months through August, the core CPI increased 2.2 percent after rising 2.4 percent in July. Economists polled by Reuters had forecast the CPI climbing 0.3 percent and the core CPI gaining 0.2 percent in August.
The inflation report will probably do little to change expectations that the Federal Reserve will raise interest rates at its Sept. 25-26 policy meeting. The U.S. central bank has raised rates twice this year.
The Fed tracks a different inflation measure, the personal consumption expenditures (PCE) price index excluding food and energy, for monetary policy. The core PCE price index increased 2.0 percent in July, hitting the Fed's 2 percent target for the third time this year.
An escalating trade war between the United States and China is expected to drive up inflation. President Donald Trump last week threatened duties on another $267 billion worth of Chinese goods on top of a $200 billion tariff list that is awaiting his decision. Washington has already slapped duties on $50 billion worth of Chinese imports, provoking retaliation from Beijing.
Minutes of the U.S. central bank's July 31–Aug. 1 meeting published last month showed "several participants commented that increases in the prices of particular goods, such as those induced by the tariff increases, would likely be one source of short-term upward pressure on the inflation rate."
U.S. Treasury yields fell after the data on Thursday and the dollar <.DXY> dropped against a basket of currencies. U.S. stock index futures were trading higher.
RENTSRISING
Last month, gasoline prices rebounded 3.0 percent after dropping 0.6 percent in July. Food prices edged up 0.1 percent, matching July's rise. Food consumed at home was unchanged.
Owners' equivalent rent of primary residence, which is what a homeowner would pay to rent or receive from renting a home, rose 0.3 percent in August after advancing by the same margin in the prior month. The rent index shot up 0.4 percent.
Healthcare costs decreased 0.2 percent last month, matching July's drop, as prices for doctor and hospital services fell. Apparel prices tumbled 1.6 percent, the biggest drop since 1949. It was the third straight monthly decline in apparel prices.
Prices for new motor vehicles were unchanged last month and the cost of used cars and trucks increased for a third consecutive month.
In another report on Thursday, the Labor Department said initial claims for state unemployment benefits slipped 1,000 to a seasonally adjusted 204,000 for the week ended Sept. 8, the lowest level since December 1969.
Economists polled by Reuters had forecast claims rising to 210,000 in the latest week. The four-week moving average of initial claims, considered a better measure of labour market trends as it irons out week-to-week volatility, fell 2,000 last week to 208,000, also the lowest level since December 1969.
The labour market continues to strengthen, with nonfarm payrolls increasing by 201,000 jobs in August and annual wage growth notching its biggest gain in more than nine years. Job openings hit an all-time high of 6.9 million in July.
The Fed's Beige Book report, which was published on Wednesday, described the labour market as "tight throughout the country, with most districts reporting widespread shortages."
(Reporting by Lucia Mutikani; Editing by Paul Simao)