Japan manufacturers' mood slips amid global trade tensions - Reuters Tankan
Comments
By Reuters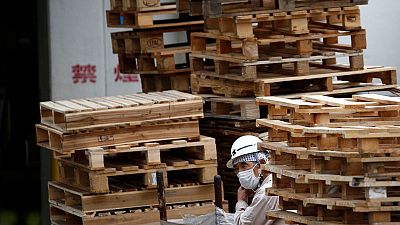 -
By Tetsushi Kajimoto and Izumi Nakagawa
TOKYO (Reuters) – Confidence among Japanese manufacturers slipped in September from August's seven-month high, a Reuters poll showed on Thursday, a sign the escalating trade war between Washington and Beijing is keeping exporters on edge.
The monthly poll, which tracks the Bank of Japan's tankan quarterly survey, found the service sector's mood rebounding in September from a two-year low recorded in August as summer bonuses and heat waves boosted retail spending.
Compared with three months ago, manufacturers' mood was unchanged and service-sector sentiment was slightly lower, suggesting that the BOJ tankan due on Oct. 1 is likely to show business morale holding largely steady.
The Reuters Tankan follows government data out on Monday that showed Japan's economy expanded at its fastest pace since 2016, underscoring the view that capital expenditure continues to back the economy even in the face of trade tensions and natural disasters.
The Reuters poll found manufacturers' sentiment was expected to bounce over the coming three months, while service-sector morale was seen slipping slightly.
But in the Reuters poll of 482 large- and mid-sized companies, exporters of cars and metal products/machinery complained about effects from Sino-U.S. trade tensions, with their exchanges of retaliatory tariffs affecting shipments and capital expenditure.
"Business investment is slow to expand as companies take a wait-and-see stance on capex in the face of the Sino-U.S. trade war," a manager of a machinery maker wrote in the survey.
Some 258 firms responded in the Reuters Tankan conducted Aug. 29-Sept. 10. The survey is anonymous.
The sentiment index for manufacturers stood at 26 in September, down four points from the previous month, weighed by declining confidence in areas such as electric machinery, metal products/machinery, textiles/paper and chemicals.
The manufacturers' index was unchanged compared with three months ago, although it is expected to rebound to 32 in December.
The service-sector index rose to 33 from 25 in August, led by retailers. The service-sector index was down two points from 35 in June. It is expected to slip to 32 in December.
The BOJ's latest tankan showed big manufacturers' sentiment soured for a second straight quarter in the three months to June, hurt by rising input costs and as U.S. trade protectionism clouded the outlook for Japan's export-dependent economy.
Revised government data on Monday showed heavy capital spending helped the economy grow at an annualised 3.0 percent in April-June, handily beating economists' median estimate for a 2.6 percent gain and posting the fastest expansion since first-quarter 2016.
(Reporting by Tetsushi Kajimoto and Izumi Nakagawa; Editing by Eric Meijer)