German far right far ahead in use of social media
Comments
By Reuters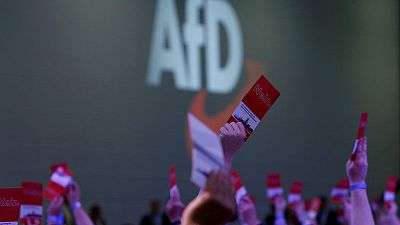 -
By Douglas Busvine
FRANKFURT (Reuters) – The far-right Alternative for Germany (AfD) and its supporters were far more active and adept than mainstream parties in promoting their agenda on social media in the run-up to last year's election success, a report published on Thursday shows.
The nationalist, anti-immigration party won seats in the national parliament for the first time in September, with 12.6 percent of the vote, after generating more engagement for its message on Twitter <TWTR.N> and Facebook <FB.O> than its opponents.
Half of the retweeted messages during the campaign were about the AfD, and its Facebook posts were shared five times more than those of any other party, according to the biggest study yet of online activity ahead of the Sept. 2017 election https://www.ub.tum.de/tumuniversitypress/titel/social-media-report-2017-german-federal-elections.
Now, as regional elections loom this autumn in Bavaria and Hesse, the party is gaining further traction with relentless posting on issues such as crime committed by migrants, which is widely shared by its supporters.
"They use very aggressive and polarising messages – that causes people to react more," said Juan Carlos Medina Serrano of the Technical University of Munich's political data science team, which wrote the report.
The AfD, together with far-right fringe groups, was quick to join protests over the fatal stabbing of a man in the eastern city of Chemnitz last month, for which two asylum seekers from Iraq and Syria were arrested.
It has also hammered away at the issue on social media: "Chemnitz has been in the top 10 hashtags in Germany for the last two weeks," Medina Serrano said.
SUPPORTSTILLRISING
Despite condemnation from mainstream parties and commentators for marching alongside neo-Nazis, the AfD has raised its national support into the mid- to high teens, recent surveys suggest.
AfD spokesman Michael Pfalzgraf said the party used social media to communicate with supporters and understand their concerns to help it formulate its political demands.
He declined to give details on its social media budget, but said a big part of its social media work was done by volunteers.
As with the U.S. presidential election of 2016, there have been concerns that voters in Germany are being influenced by 'fake' news, but the 60-page study found that the spread of such disinformation was not significant.
Of a sample of 350 million tweets gathered over seven months before the general election, none of the 100 most-shared messages contained fake news – but 51 of them were related to the AfD.
On Facebook, meanwhile, nine of the 100 most shared stories were found to have been sensationalist, one-sided and aimed at triggering negative emotions towards refugees, but were not demonstrably false. "This is insufficient to categorise them as fake news," the study said.
RETWEETING
Instead, the researchers found that AfD supporters amplified the reach of media coverage of stories that the AfD posted or commented on. Social media users sympathetic to the party often tweeted links to stories in Die Welt, a conservative daily, but also to fringe alt-right media outlets.
These included far-right news sites such as Junge Freiheit and the German edition of the Epoch Times, which is controlled by exiled devotees of China's Falun Gong sect and takes an editorial line close to that of the AfD.
Also popular are Russian-run news sites Sputnik and RT Deutsch that portray the AfD in a positive light. There was not much evidence of activity by Russian 'troll' accounts suspected of attempting to manipulate the U.S. election, however.
On the national and regional Facebook pages of Germany's main political parties, the AfD's Facebook page had the biggest number of hits, and its posts were shared five times more than those of its nearest rival.
And, while readers' emoji responses to other parties' Facebook posts mostly indicated that they loved them or found them funny, those responding to AfD posts were most likely to choose the emoji for 'angry'.
(In paragraph 13, changes reference to stories being 'shared' through Facebook, not 'retweeted')
(Additional reporting by Andrea Shalal in Berlin; Editing by Kevin Liffey)