Russia's Putin, Hungary's Orban to discuss energy issues, gas supply next week
Comments
By Reuters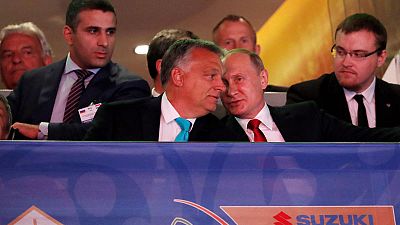 -
By Krisztina Than
BUDAPEST (Reuters) – Energy issues will be "very heavily on the agenda" at a meeting between Hungarian Prime Minister Viktor Orban and Russian President Vladimir Putin next Tuesday in Moscow, Foreign Minister Peter Szijjarto told Reuters on Wednesday.
Hungary imports most of its gas from Russia under a long-term supply agreement, due to expire by 2020.
"Another long-term agreement is not on the agenda yet since we have to come to an agreement about year 2020, although some … preparatory negotiations on how to go forward have been launched," Szijjarto said on the sidelines of a news conference.
"(Our) long-term gas supply deal with expire at the end of 2020 or already at the end of 2019, we will see the Russian position on that," he added.
Hungary has promoted Moscow's interests within the European Union, repeatedly calling for the ending of economic sanctions imposed after Russia's annexation of Crimea in 2014.
"We have to find a way in order to minimize our losses … which were caused by the regime of the sanctions in the last years," Szijjarto said on Wednesday.
In 2014, Budapest also signed a deal for two new reactors at its Paks nuclear plant with Russia, to be built by state atomic energy firm Rosatom.
It will be funded with a 10 billion euro loan from Russia but will be owned and operated by the Hungarian state.
The project has been delayed, which Hungary said was due to EU regulatory hurdles. The EU cleared the project last year.
Hungary's government has said the nuclear plant will serve the country's long-term energy security. It also says Russia has less economic influence in Hungary than in other Western European states.
However, Orban has also clamped down on non-governmental bodies that he accuses of using foreign funding and actively helping illegal immigration.
Putin last met Orban in July.
(Reporting by Krisztina Than; Editing by Jan Harvey and David Evans)