Merkel: No excuse for hunting people down, Nazi slogans
Comments
By Reuters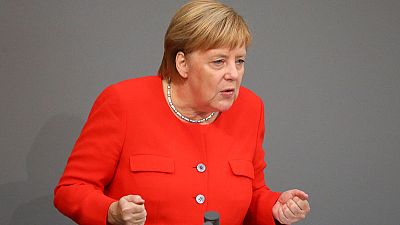 -
BERLIN (Reuters) – German Chancellor Angela Merkel condemned on Wednesday xenophobic attacks, hunting people down and the use of Nazi slogans after the violent far-right demonstrations in Chemnitz two weeks ago have exposed deep divisions in German society.
"There is no excuse or reason for hunting people down, using violence and Nazi slogans, showing hostility to people who look different, who have a Jewish restaurant, for attacks on police officers," Merkel told the Bundestag lower house of parliament.
She cited the German constitution, which states that human dignity is paramount and said generalisations should not be made about migrants living in Germany.
(Reporting by Michelle Martin and Paul Carrel; Writing by Madeline Chambers, editing by Riham Alkousaa)