Markets price in rapid run of Turkish interest rate hikes
Comments
By Reuters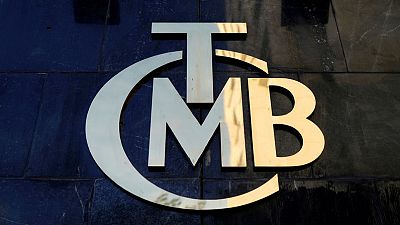 -
By Marc Jones
LONDON (Reuters) – Look away now, Mr Erdogan. Financial markets are pricing in a 4 percentage point hike in Turkish interest rates on Thursday and a near doubling of rates to over 30 percent by this time next year.
Turkey's central bank has held back on various occasions as the lira has tumbled this year, but as the charts below show, Istanbul's money market traders expect a huge rate hike this week.
They have been wrong plenty of times before, of course, and pricing can be deceiving when trading is thin. But it now shows three-month lending rates in a week's time – i.e. after the central bank meeting – at 23.8 percent. <TRYAM3L3MF1W=><0#TRYAM3LFSSM>
That compares with the central bank's current one-week repo rate of 17.75 percent <TRINT=ECI> and its 19.25 percent 'overnight' rate that has become the banking system's effective funding rate again.
All 11 banks and asset managers polled by Reuters last week also saw a chunky hike. The estimates of how high rates will be raised averaged out at just over 22 percent, but they vary from 20 percent to 25 percent.
Looking beyond Thursday, the picture is even starker. The end of year money market pricing for 3-month lending is at 26.7 percent <TRYAM3L3MF3M=>, another 3 percentage points up on where Thursday's move is expected to take them.
Extreme caution is required, however, because trading is notoriously patchy for periods that far in the future.
But on the face of it rates look like they could break the 30 percent barrier by the middle of next year <TRYAM3L3MF9M=> before topping at around 33 percent exactly a year from now. <TRYAM3L3MF1Y=>
Fund manager UBP's EM macro and FX strategist Koon Chow says the central bank is in a difficult position. It needs to restore some credibility after the lira's 40 percent slump this year but also stay onside with President Erdogan. who wants low rates to help grow the economy.
"It is a high bar and I'm worried they might not meet it," Chow said.
VOLATILETIMES
The belief that the central bank will hike rates has steadied the lira over the last couple of weeks.
Turkey is no stranger to super-sized rate hikes. It jacked up rates by 300 basis points in May and also cranked them up in a midnight emergency meeting in January 2014 after the lira tumbled more than 7 percent in 10 days – a fall that would barely raise an eyebrow these days.
The market gauges of potential future volatility have also eased substantially even if by historical standards they remain elevated.
The cost of hedging against big lira swings for the next week using implied volatility options <TRYSWO=FN> is almost half the record levels of mid-August. However, it is still higher than at any other time since the global financial crisis.
One-year risk reversals <TRY1YRR=>, a gauge of puts (sells) to calls (buys) on lira and a medium-term measure of the currency's outlook, are also still high.
Barring a remarkable fightback in coming months, this will be the lira's sixth straight year of losses. It is also the most undervalued of the major emerging currencies in real effective exchange rate (REER) terms, which measure it against the currencies of trade partners, adjusted for inflation.
Technically the lira's all-time REER low was in October 2001. Renaissance Capital, however, says that this equates to 5.16 per dollar in today's prices. On Wednesday the spot rate was still well above at 6.4 having reached 7 per dollar in August. <TRYTOM=D3>
(Reporting by Marc Jones; Editing by Hugh Lawson)