Greek pension cuts in balance as EU/IMF inspectors visit
Comments
By Reuters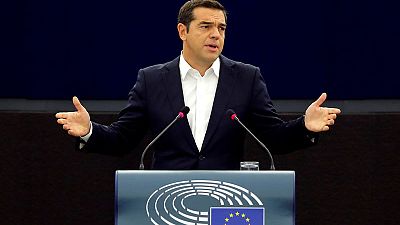 -
By Lefteris Papadimas
ATHENS (Reuters) – Hopes in Greece that it will have fiscal leeway to cancel unpopular pension cuts due next year are in the balance, sources said on Wednesday, as the first inspection visit by its former lenders since it exited its bailout began.
The country emerged from the biggest economic rescue in history in late August after almost nine years of creditor- mandated austerity.
Its former international lenders at the European Union and International Monetary Fund have promised to ease repayment terms on its huge debt pile, proportionally the biggest in the bloc. Athens has in exchange agreed to hit specific fiscal targets up to 2022.
The lenders' inspectors began their first assessment of Greece's progress on those measures on Wednesday.
"It seems that Greece will outperform its fiscal target by about 0.5 percentage points this year and that gives the government some space for manoeuvring," a source close to the lenders told Reuters, adding that the 2019 budget would also be on the agenda.
So far it has beaten its targets, helped by an economy that has returned to growth after a long recession.
Athens has promised to achieve an annual primary budget surplus – which strips out debt servicing costs – of 3.5 percent of GDP up to 2022. With that in mind it has legislated pension cuts and tax hikes to take effect in 2019 and 2020 respectively.
On Saturday Prime Minister Alexis Tsipras said that, hinging on Greece's economic progress, it would not be necessary to implement the pension cuts next year, arguing that such a move would not be a structural reform and could hurt growth.
Greece has slashed pensions at least 12 times since 2010.
"UNNECESSARY"
The leftist leader was catapulted to power on a promise to end austerity but was forced to sign up to a new bailout instead. With national elections due next year, his party is about 10 points behind the conservative opposition.
The prime minister also announced tax relief measures over coming years, including gradual reductions of corporate tax, value added tax and a property levy..
Finance ministry officials discussed a reversal of the planned pensions cuts with the inspectors on Wednesday, a ministry source said.
"We told them that the implementation of the measure is unnecessary," the source said, adding that the climate was positive during the talks.
Athens is hopeful of winning support for the move from its euro zone partners but the IMF, which says that maintaining a high primary budget surplus is a tough task, may disagree.
Another source with knowledge of the talks said that a final estimate of next year's fiscal outperformance could give Athens the option of postponing the cuts.
The inspectors have planned four annual assessments and their findings will be presented to euro zone finance ministers.
A positive assessment would also help Athens receive profit returns from bonds held by euro zone central banks currently amounting to about 4 billion euros (3.56 billion pounds).
(Writing by Renee Maltezou; editing by John Stonestreet)