Fighting resumes in Yemen's Hodeidah as peace talks stall
Comments
By Reuters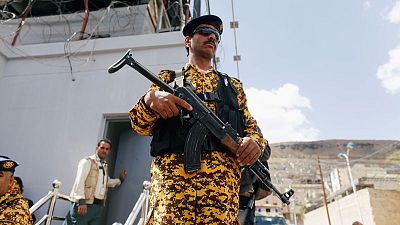 -
ADEN/GENEVA (Reuters) – Heavy fighting resumed on the outskirts of Yemen's main port city of Hodeidah, days after U.N.-sponsored talks between the warring parties collapsed, military sources said on Wednesday.
The renewed skirmishes could put further pressure on U.N. special envoy Martin Griffiths, who vowed to press ahead with diplomacy after an attempt to hold peace talks in Geneva was abandoned on Saturday when the Houthi movement's delegation failed to show up.
Yemeni military forces allied with a Saudi-led coalition fighting the Houthis said the battles outside Hodeidah began on Monday but intensified on Wednesday.
Coalition-backed troops are trying to take control of the main route between Hodeidah and Sanaa in order to cut off supplies to the capital, which is also held by the Iranian-aligned Houthi group, they said.
The Western-backed alliance intervened in Yemen's war in 2015 to restore the internationallly recognized government of Abd-Rabbu Mansour Hadi. Coalition forces retook much of the south before the war, widely seen as a proxy conflict between Saudi Arabia and Iran, bogged down.
The coalition, led by Saudi Arabia and the United Arab Emirates, launched an offensive to wrest control of Hodeidah in June in the largest battle of the conflict, but called it off after little gains to give peace talks a chance.
"The Houthi NO SHOW at the Geneva peace process is further proof that the liberation of Hodeida is what is needed to bring them to their senses & constructively engage in the political process," UAE Minister of State for Foreign Affairs Anwar Gargash said in Twitter post.
It was not clear if the renewed fighting signalled a resumption of the offensive on the port city, which is a lifeline for millions of Yemenis.
The United Nations fears an attack on Hodeidah, the entry point for the bulk of Yemen's commercial imports and aid supplies, could trigger a famine in the impoverished state where an estimated 8.4 million people are facing starvation.
Griffiths is heading to Oman on Wednesday to meet Houthi leaders, and then to the Houthi-held capital Sanaa, his spokeswoman Hoda El-Turk said.
"We want to go to Muscat to find out … how do we arrange things in a different way so that both parties can sit down together next time around," Griffiths told reporters in Geneva on Saturday.
Houthi leader Abdul Malik al-Houthi accused the coalition of blocking his movement's team from travelling to the peace talks. The foreign minister of Hadi's government, Khaled al-Yamani, accused the Houthis of "trying to sabotage the negotiations".
The Yemen war has killed more than 10,000 people and displaced more than 2 million, according to the United Nations.
(Reporting By Mohammed Ghobari in Aden and Stephanie Nebehay in Geneva; Writing by Aziz El Yaakoubi, Editing by William Maclean)