HSBC whistleblower defends tax leak as fights extradition
Comments
By Reuters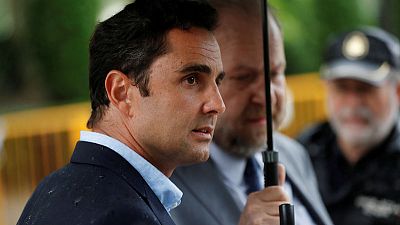 -
MADRID (Reuters) – A whistleblower fighting extradition to Switzerland for leaking details of thousands of clients of HSBC's <HSBA.L> private bank there said on Tuesday his actions had played a key role in helping other European countries uncover tax frauds.
Spain's High Court is considering the Swiss extradition request against Herve Falciani, a French citizen who worked for HSBC, over alleged industrial sabotage in 2008.
Hailed as a hero by some for triggering investigations in several countries, Swiss courts sentenced Falciani in absentia to five years in jail for leaking details of HSBC clients, many of whom he said he suspected were evading tax.
"I want to recognise the institutions with which I have been able to collaborate (…) and this is why this court has played a fundamental role in helping several European judicial authorities," Faliciani told Spain's High Court.
Spanish Prosecutor Teresa Sandoval opposed the extradition request partly because the charges included in the Swiss ruling are not considered a crime in Spain.
"The truth is that the information that Mr. Falciani collected from the bank was never transmitted to private individuals and only to official organisations," Sandoval said.
This stance was supported by Juan Ballarat, the lawyer representing Falciani following his arrest in Madrid in April while on his way to speak at a conference on whistleblowing.
Spain's High Court released Falciani from custody the day after his detention but ordered him to remain in Spain while considering the extradition request.
France, Austria, Belgium, Spain and Argentina launched investigations based on the information leaked by Falciani, but Swiss authorities insist the data was stolen and therefore legally inadmissible.
Judicial sources told Reuters they expect the judge to issue a ruling on the extradition request in the coming days or weeks.
(Reporting by Jesús Aguado and Belen Carreno; Editing by Alexander Smith)