Former Volkswagen boss dragged feet in emissions scandal - judge
Comments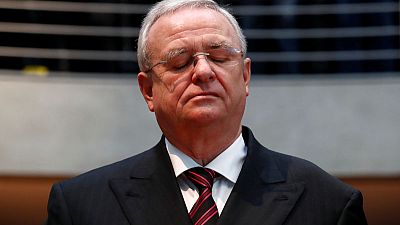 -
By Jan Schwartz
BRAUNSCHWEIG, Germany (Reuters) – Former Volkswagen <VOWG_p.DE> boss Martin Winterkorn was slow to address emissions test cheating that led to huge U.S. fines, a judge hearing a damages case brought by investors against the German carmaker said on Tuesday.
The question of who knew what, and when, will be vital in determining the outcome of the suit in which investors are seeking 9.2 billion euros ($10.6 billion) in damages for share price losses suffered when the scandal became public.
Separately, a consumer rights group said it would file a class-action lawsuit on Wednesday against VW over the manipulation of emissions software, seeking compensation for up to 2 million owners of affected diesel models.
The plaintiffs in the first case say Volkswagen (VW) failed in its duty to inform them about the financial impact of the scandal, which broke when the U.S. Environmental Protection Agency (EPA) issued a so-called notice of violation on Sept. 18, 2015.
Judge Christian Jaede said then-CEO Winterkorn had dragged his feet after a top-level management meeting two months earlier discussed how to deal with U.S. regulators who were threatening to ban VW because of excessive pollution levels. The plaintiffs say that from this moment, Winterkorn was aware of the cheating.
"Anyone acting in good faith would have followed up on this information," Jaede said on the second day of hearings into the case at the Braunschweig higher regional court. "This appears not to have happened."
It was not clear, the judge added, why the company had not put out a statement after establishing that engine software had been manipulated to get around emissions tests.
The judge also said it was reasonable to take the view that Winterkorn knew about the emissions cheating far earlier.
However, Thomas Liebscher, a lawyer for VW, said it would be unfair to assume the chief executive knew how the company's engine management software worked.
Winterkorn resigned in the days after the scandal broke. He told German lawmakers in early 2017 that he did not find out about the cheating any earlier than VW had officially admitted. His lawyer was not immediately available for comment on Tuesday.
The 71-year old faces U.S. criminal charges, filed in May, accusing him of conspiring to cover up the 'dieselgate' scandal. VW has also said it may seek damages from him.
PUBLICDUTY
The plaintiffs say VW failed in its duty to inform investors about the potential financial implications of the emissions test cheating, which has cost the company 27.4 billion euros in penalties and fines so far.
Had investors known about VW's cheating, they might have sold shares earlier or not made purchases, thereby avoiding losses on their holdings, the plaintiffs argue. VW shares lost up to 37 percent in value in the days after the scandal broke.
The company has argued it did not inform investors of the issue because it did not want to endanger the chance of reaching a settlement with the U.S. authorities.
Jaede said this would only have been legitimate if a settlement could have been reached quickly and VW had cooperated with the U.S. authorities to the best of its efforts.
The judge told the opening day of the trial that VW's decision between 2005 and 2007 to install cheating software in diesel vehicles was illegal, but it was not clear that the intent was to deceive investors.
Fund manager Deka Investment brought the case, known in German as a Musterklage, or specimen claim. The outcome of the case could apply to a further 1,670 similar shareholder claims.
It's possible that claims covering incidents prior to 2012 may not be valid under the statute of limitations, the judge said on Monday. The case is expected to continue into next year and may end up before a higher court.
($1 = 0.8645 euros)
(Reporting by Jan C. Schwartz; Writing by Douglas Busvine; Editing by Tassilo Hummel, Mark Potter and David Evans)
euronews provides breaking news articles from reuters as a service to its readers, but does not edit the articles it publishes. Articles appear on euronews.com for a limited time.