China's Xi calls for Moscow and Beijing to unite to fight protectionism
Comments
By Reuters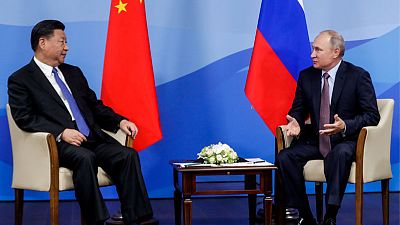 -
MOSCOW (Reuters) – Chinese President Xi Jinping said on Tuesday that Russia and China should work together to oppose trade protectionism and what he called unilateral approaches to international problems, a veiled reference to U.S. foreign policy.
Xi made the comments at a news conference in Vladivostok in Russia's far east after holding talks with Russian President Vladimir Putin on the sidelines of an economic forum.
Xi, whose country is locked in an escalating trade showdown with the United States, did not mention Washington by name but his comments made it clear he was referring to the U.S. and what Moscow and Beijing regarded as its unacceptable unilateralism.
"In a rapidly changing international situation with growing instability and unpredictability, cooperation between Russia and China takes on even more importance," said Xi, according to a transcript on the Kremlin's website.
"Together with the international community we will advance political solutions to current problems, conflicts, unflinchingly defend the aims and principles of the U.N. charter, jointly oppose unilateralism and trade protectionism, and advance a new type of international relations."
(Reporting by Katya Golubkova and Christian Lowe; Writing by Andrew Osborn; Editing by Andrew Heavens/Polina Devitt)