Stabbed Brazilian front-runner Bolsonaro needs more surgery - hospital
Comments
By Reuters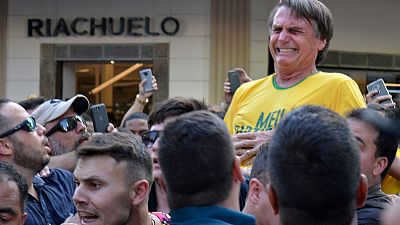 -
SAOPAULO (Reuters) – Brazil's front-running far-right presidential candidate Jair Bolsonaro is still in serious condition in intensive care and will need to undergo another major surgery, the hospital where he is being treated said in a written statement on Monday.
Bolsonaro, 63, was stabbed at a campaign rally on Thursday in an assassination attempt that plunged the presidential race into further confusion as it appears unlikely he will be able to resume campaigning before the Oct. 7 vote.
The medical bulletin issued by the Einstein Hospital in Sao Paulo contrasted with the up-beat report on Sunday that said Bolsonaro's health had improved markedly and that he had walked for a few minutes but was still receiving food intravenously.
The new report said his condition was still serious and he would need additional surgery since he has a colostomy bag that needs to be removed and the intestine perforated by the stabbing repaired.
There are no signs of infection, the bulletin added.
The knife attack against Bolsonaro further complicated he most unpredictable election in three decades, with Brazil's most popular politician, jailed former president Luiz Inacio Lula da Silva, banned from running due to a corruption conviction but keeping up a legal battle to try to overturn that ban.
Bolsonaro, a former army captain, has for years angered many Brazilians with extreme statements on race, gender and sexual preference, but he is also seen by his many supporters as an outsider who can clean up a corrupt political system.
Police have a suspect in custody and say only that they are continuing the investigation and that no clear motive was yet known, though the assailant told police he stabbed Bolsonaro on Thursday on "orders from God."
Surveys consistently give Bolsonaro, a member of the Social Liberal Party, around 22 percent in of voter support. However, those polls find he would lose to most rivals in the likely event of a runoff, which takes place if no candidate wins a majority in the first ballot.
Bolsonaro's campaign managers hope that the stabbing will draw sympathy votes that will win him the presidency.
(Reporting by Brad Brooks in Sao Paulo and Pedro Fonseca in Rio de Janeiro; Writing by Anthony Boadle; Editing by Alistair Bell)