International Tennis Federation defends U.S. Open chair umpire Ramos
Comments
By Reuters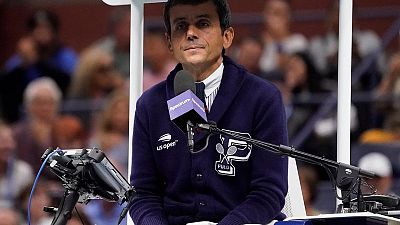 -
(Reuters) – The International Tennis Federation (ITF) has given its backing to chair umpire Carlos Ramos who Serena Williams called a "liar" and a "thief" during her U.S. Open final defeat by Japan's Naomi Osaka on Saturday.
Williams, who was seeking a record-equalling 24th Grand Slam singles title, was given a warning for a coaching violation before incurring a point penalty for smashing her racket. She then argued with Ramos, which cost her a game.
The six-times U.S. Open champion was fined $17,000 by the United States Tennis Association for her outburst.
"Carlos Ramos is one of the most experienced and respected umpires in tennis. Mr. Ramos' decisions were in accordance with the relevant rules and were reaffirmed by the U.S. Open's decision to fine Serena Williams for the three offences," the ITF said in a statement on Monday.
"It is understandable that this high profile and regrettable incident should provoke debate. At the same time, it is important to remember that Mr. Ramos undertook his duties as an official according to the relevant rule book and acted at all times with professionalism and integrity."
(Reporting by Shrivathsa Sridhar in Bengaluru, editing by Pritha Sarkar)