Aston Martin adds FTSE experience to its board ahead of IPO
Comments
By Reuters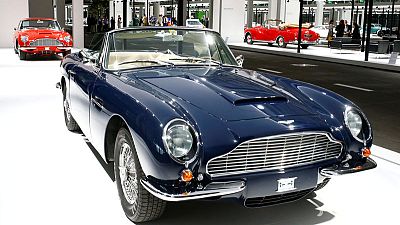 By Costas Pitas
LONDON (Reuters) – Aston Martin has lined up experienced FTSE executives to boost its board as the 105-year-old luxury carmaker presses ahead with plans to list on the London Stock Exchange, it said on Monday.
The company, famed for making the sports car driven by fictional secret agent James Bond, said last month it was pursuing an initial public offering (IPO), the first British carmaker to do so for decades.
Penny Hughes, who has previously worked at FTSE companies Vodafone <VOD.L> and supermarket WM Morrison <MRW.L>, will become Aston's non-executive chair of the board when the flotation takes place, Aston Martin said.
Richard Solomons, who was chief executive of InterContinental Hotels <IHG.L> from 2011 to 2017, will become a senior independent director and chair of the board's audit and risk committee.
Chief Executive Andy Palmer told Reuters the appointments would help avoid a repeat of some of the previous mistakes made by the firm, which has gone bankrupt seven times in its history.
"If one looks at the lessons from the past where we've had millionaires and billionaires buying us, investing in one car and then walking away and that's created the problems," he said.
"We need to be in good governance for the next 100 years and … having an independent board, selecting that independent board because of their deep experience in running the boards of huge public companies I think is absolutely key."
Imelda Walsh, who is chair of the remuneration committee at transport firm FirstGroup <FGP.L>, and Peter Espenhahn, who has audit and tax experience with accountancy firm Deloitte, will also join Aston.
The news came as China's Geely [GEELY.UL] delayed the planned listing of its Volvo Cars business, citing valuation concerns amid a global trade war.
The indicative price range for Aston's IPO and the maximum number of shares to be sold will be detailed in the firm's prospectus which is due to be published on or around Sept. 20, the company added.
The carmaker will then detail the final offer price in early October ahead of admission to the FTSE, with at least 25 percent of the stock to be floated.
Aston, which has long said it could IPO, has undergone a turnaround plan since Palmer took over as CEO in 2014 as it boosts its volumes and builds a second factory.
The automaker, which forecasts volumes will rise to between 6,200 and 6,400 vehicles this year, hopes to build nearly 10,000 in 2020 and follow Ferrari by using its exclusivity to appeal to investors.
(Reporting by Costas Pitas and James Davey; Editing by Kirsten Donovan and Mark Potter)