Greece says fiscal success means pension cuts, tax hikes not needed
Comments
By Reuters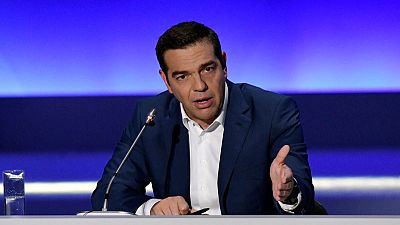 -
By George Georgiopoulos
THESSALONIKI, Greece (Reuters) – Prime Minister Alexis Tsipras, seeking re-election next year, said on Sunday that Greece would not need to cut pensions or raise taxes as planned because it was beating the budget targets agreed with its lenders.
Tsipras, a leftist elected in 2015 but trailing badly in opinion polls, also pledged not to row back on those targets now that Greece has emerged from almost a decade of financial bailouts and enforced austerity.
Tsipras used a trade fair in Thessaloniki to announce sweeping tax breaks in the next few years, as well as ruling out an early election.
"These relief measures are the least we can do for a public that has borne huge burdens," Tsipras told a news conference. "Greece will not return to bailouts again".
Tsipras is walking a tightrope as he wants to appease a public fed up with cutbacks while reassuring markets sensitive to any sign of easing up on fiscal consolidation.
Greece emerged from an economic adjustment programme with the European Union in August, but must still keep a primary budget surplus of 3.5 percent of GDP until 2022.
To reassure its lenders, Athens has legislated further pension cuts to take effect in 2019, and a reduction in the taxable earnings threshold from 2020. But Tsipras said both would be unnecessary since fiscal targets would be exceeded.
"NO BACKTRACKING"
"We don't want to proceed with any backtracking that could scupper fiscal consolidation or the core of necessary reforms," he said. "But we will explain that this measure (on pensions) is not a structural one and is against growth."
EU and International Monetary Fund representatives are due in Athens on Monday for their first quarterly assessment of Greece's post-bailout performance.
Tsipras said Greece had a multi-billion-euro cash buffer that would ensure it did not need to tap financial markets for liquidity during periods of volatility.
In his keynote policy speech a day earlier, Tsipras announced a range of tax relief measures for the next three years, from reducing corporate and property tax to subsidising social security contributions for some workers.
Greece's worst debt crisis in decades broke out in 2010.
Tsipras was first elected in January 2015 promising to end painful cuts but later caved into lenders' demands for more austerity under a new bailout. He has also been criticised this year for a deal intended to end a decades-old row with neighbouring Macedonia over its name.
His right-wing coalition partner, Defence Minister Panos Kammenos, has openly opposed the deal, which may need to be approved next year by parliament, where the government has 152 of the 300 seats and is backed by one independent MP.
(Writing by Renee Maltezou; Editing by Kevin Liffey)