Trump expecting 'positive' letter from North Korea's Kim Jong Un soon
Comments
By Reuters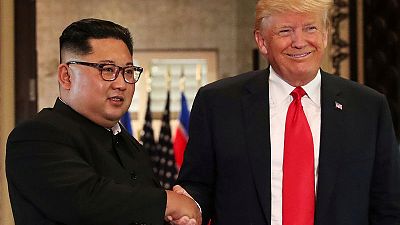 -
By Steve Holland
ABOARDAIRFORCEONE (Reuters) – U.S. President Donald Trump said on Friday a letter from North Korean leader Kim Jong Un, which he believes will be positive, is on its way to him, a day after expressing fresh optimism about a denuclearisation deal.
"I know that a letter is being delivered to me, a personal letter from Kim Jong Un to me. It was handed at the border … yesterday," Trump told reporters on Air Force One. "It's being delivered. It's actually an elegant way… and I think it's going to be a positive letter."
The two leaders have traded correspondence as they negotiate over North Korea's nuclear programme and Trump has also praised Kim on social media. On Thursday, Trump thanked Kim on Twitter for expressing "unwavering faith in President Trump" and added: "We will get it done together!"
Trump's latest remarks came after South Korean officials said after meeting Kim in Pyongyang this week that the North Korean leader had given his first timeline for denuclearisation, in spite of widespread scepticism about his willingness to give up a nuclear weapons programme that threatens the United States.
According to the South Korean officials, Kim said his faith in Trump was "unchanged" and he wanted denuclearisation of the Korean peninsula and an end to hostile relations with the United States before Trump's first term ends in early 2021.
However, there has been no indication that Kim has offered more concrete steps towards giving up his nuclear weapons and some U.S. officials privately doubt he is willing to abandon the arsenal.
Both Kim and Trump have stressed their personal relationship since meeting in an unprecedented June 12 summit which sceptics say was big on fanfare but short on substance.
Under discussion since has been whether North Korean denuclearisation or declaring an end to the Korean War should come first. The 1950-53 war ended with an armistice, not a peace treaty, meaning U.S.-led U.N. forces are technically still at war with the North.
South Korea's Yonhap news agency reported that generals from the United States and North Korea met on Friday at the Korean border to discuss the recovery of the remains of U.S. service members killed in the Korean War.
It said the talks between U.S. Major General Michael Minihan and North Korean Lieutenant General An Ik-san followed North Korea's handover of remains in July under an agreement reached by Trump and Kim at the summit.
The State Department and Pentagon did not immediately respond to questions about the border meeting.
In previous, failed rounds of negotiations over North Korea's nuclear programme, North Korea has said it could consider giving up its arsenal if Washington provides security guarantees by removing troops from South Korea and withdrawing its so-called nuclear umbrella of deterrence from the South and Japan.
The United States has 28,500 troops in South Korea and Trump has said in the past it should consider reducing the number unless Seoul shoulders more of the cost.
South Korea has said American forces should stay even if a peace agreement is signed, while U.S. Defense Secretary Jim Mattis assured Seoul in a June visit of an "ironclad" U.S. commitment to its security, including keeping U.S. troop levels unaltered.
On Friday, North Korea's official KCNA news agency quoted a statement from the obscure Anti-Imperialist National Democratic Front (AINDF) denouncing the presence of U.S. forces in South Korea and calling them the "chieftain of aggression and division, and root cause of misfortune and pain."
"The withdrawal of the U.S. forces, the end of the U.S. military presence and domination is the demand of the Korean nation and the irresistible trend of the times," it said.
(Reporting by Steve Holland and David Brunnstrom; Writing by Lisa Lambert and David Brunnstrom; editing by James Dalgleish)