Russian fury over pension age hike clouds Moscow mayoral election
Comments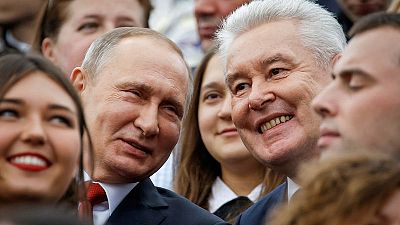 -
By Andrew Osborn
MOSCOW (Reuters) – Polls show President Vladimir Putin's former chief-of-staff will comfortably be re-elected Moscow's mayor on Sunday, but public anger over planned increases to the nationwide pension age means many voters may stay away, tarnishing his win.
The election is the first test at the ballot box for the authorities since Putin, whose popularity has tumbled by around 15 percent due to anger over the changes, intervened to soften the reform last week.
The changes, going through parliament, are the most unpopular government measure since a 2005 move to scrap Soviet-eras benefits led to nationwide pensioner protests.
Frontrunner Sergei Sobyanin, who has run Moscow since 2010, has recorded a rare personal appeal to voters asking them to show up to vote.
Sobyanin has also promised to protect Moscow's around three million pensioners, who like the rest of the country face a phased five-year increase in the pension age.
After being amended by Putin, the reforms envisage raising the retirement age for men to 65 from 60 and to 60 from 55 for women. Average life expectancy for men is 66 and for women 77.
"It's clear that Sobyanin will win, but turnout will be really low because there is a protest mood in society," Dmitry Oreshkin, an independent political analyst, said.
"It's a Soviet-type of protest when people carp in their kitchens but believe there's no point in taking part in any official procedure."
Polls show just under one third of the seven million registered voters will turn up.
Turnout at the last Moscow mayoral election in 2013 was just over 32 percent. Official turnout at previous mayoral elections, which critics say have often been falsified, varied from 57 to 66 percent.
Elections to select the heads of another 25 of Russia's 85 regions will also be held on Sunday.
FREECONCERTTICKETS
The authorities' approach to the Moscow vote has been to exclude awkward candidates and mount a get-out-the-vote operation, a sign the Kremlin takes anger over the pension changes, which polls show most Russians oppose, seriously.
Opposition leader Alexei Navalny, who ran against Sobyanin in 2013 and had planned to lead a protest against the proposed pension changes on Sunday, will spend election day behind bars after being convicted of violating protest laws.
His supporters plan to demonstrate across Russia.
Registration rules that allow the ruling United Russia party to decide who takes part in the election were used to prevent two liberal opposition candidates from running against Sobyanin. His four rivals are virtual unknowns.
The get-out-the-vote push has involved 10,000 volunteers and a billboard campaign. Young Muscovites are being offered free concert tickets if they vote, voting hours have been extended and voting stations will be set up outside Moscow to allow people spending time at their dachas or country houses to vote.
Candidates for the Communist Party and the Fair Russia Party oppose the pension changes. But Sobyanin, who polls show should win around 70 percent of the vote, has declined to debate them on TV.
"Sobyanin is a smart person," said Oreshkin. "He talks about road building, but not about politics. He understands that speaking about pension reform would be extremely painful for him."
Sobyanin, 60, seen by some in the elite as a possible future president or more likely prime minister, has transformed the face of Moscow.
With an annual budget of around 2 trillion roubles ($28.90 billion) he has overseen the city's biggest post-Soviet overhaul of public transport, roads and parks, at times even winning plaudits from anti-Kremlin critics.
Detractors say this renewal is to pacify young and middle class Muscovites who have voted for Putin in smaller numbers than the rest of the country in the past.
The strategy has had some success, say experts, but when it comes to Sunday's election the agenda is much broader.
"It's impossible to separate the city's agenda from the federal agenda," wrote Alexander Baunov, a senior fellow at Moscow's Carnegie Centre think tank, last week.
"It's hard to create a situation where the election will be focused on questions of transport, pavements and parks, rather than on pension reform, Donbass (separatist-controlled east Ukraine) and the Russian authoritarian tradition."
(Editing by Janet Lawrence)
euronews provides breaking news articles from reuters as a service to its readers, but does not edit the articles it publishes. Articles appear on euronews.com for a limited time.