Exclusive - San Marino considers $350 million IMF loan to shore up banks -sources
Comments
By Reuters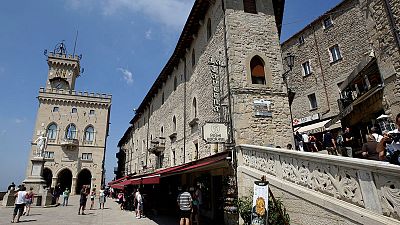 -
By Elvira Pollina
MILAN (Reuters) – Europe's San Marino is considering asking the International Monetary Fund (IMF) for a loan of up to 300 million euros ($350 million) to shore up its banks, which are crippled by bad debts, two sources said.
The nation of 34,000 people landlocked inside Italy has yet to recover from a deep recession caused by the global financial crisis a decade ago and its banks are swamped with bad debts of 1.7 billion euros, 117 percent of the former tax haven's 2017 gross domestic product (GDP) of 1.45 billion euros.
Although San Marino is less than 15 km (9 miles) across, it still has six banks, a legacy of its days as a discreet place where foreigners, especially Italians, parked their savings.
San Marino's central bank estimates that 37 percent of the nation's problem loans are in its worst category of bad debts.
In addition to moving towards a loan request to the Washington-based IMF, the republic is preparing to cut public-sector salaries and reform the pension system.
"No formal letter has gone to the IMF but there has been a dialogue with Washington institutions for more than a year on the need to stabilise the situation," one source said.
"By the end of this year the request for help should be finalised, or the assistance programme may even have been activated by then," the source added.
A second source confirmed the government was moving towards a formal request, but said nothing had been decided as yet.
An IMF spokesman said no formal request for financial assistance had been received from San Marino authorities, but the fund was advising them on how to stabilise the economy.
"Fund staff maintains close engagement with the Sammarinese authorities, as with other member countries, to advise them on policies to promote stability and growth, and support their efforts to strengthen the provision of data in the banking sector, fiscal accounts, and balance of payments," he said.
(Editing by Mark Bendeich and Alexander Smith)