Elliott demands fresh revamp at Hyundai Motor Group
Comments
By Reuters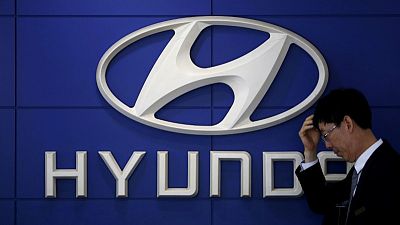 -
By Hyunjoo Jin
SEOUL (Reuters) – U.S. activist hedge fund Elliott Management has renewed its pressure on Hyundai Motor Group with a fresh restructuring proposal after forcing the South Korean conglomerate to abandon its own reform plan in May.
Elliott also urged Hyundai to form a committee to review its proposal with other investors and experts, expressing frustration at what it called Hyundai's silence towards its attempts to discuss the new proposals.
The renewed push comes amid growing public scrutiny over families controlling large conglomerates in South Korea following a corruption scandal last year involving the Samsung Group.
In a rare victory for an activist shareholder in the country, Elliott and other shareholders helped in May to force Hyundai, South Korea's second-largest business group, to scrap its own restructuring plan, which would have prepared the group for a switch of management from father to son.
"We express our frustration as to HMC board's silence towards our consistent attempts… to communicate and advance the restructuring and other projects," Elliott said in a letter sent to Hyundai on August 14. It released the letter to the public on Friday.
It proposed to establish a committee to discuss restructuring, shareholder returns and a board makeup.
Hyundai rejected the proposal for the committee on the basis that it could potentially violate "fair disclosure rules, which prevent us from sharing material confidential information about the company and its businesses to only a subset of our shareholders."
"We hope to share our thoughts on how to improve shareholder value with all of our shareholders in due course," Hyundai said in a statement on Friday.
Under its new proposal, billionaire Paul Singer's fund asked car-parts maker Hyundai Mobis Co <012330.KS> to sell its after-sale service business to Hyundai Motor Co <005380.KS>, and then merge what is left of Mobis with logistics affiliate Hyundai Glovis Co <086280.KS>.
Then it proposed the merged Mobis-Glovis purchase stakes in Hyundai Motor from the controlling family and affiliate Kia Motors <000270.KS> to tighten its grip over the crown jewel of the group.
The news raised investors' expectations that the stalled restructuring of Hyundai may revive, sending shares in Hyundai Glovis 5.5 percent higher and Hyundai Mobis up 2.4 percent. Shares in Hyundai Motor fell 1 percent.
Hyundai's original plan was to spin off Hyundai Mobis' lucrative after-sales business and merge it with Hyundai Glovis, whose top shareholders are chairman Chung Mong-koo and his only son and heir apparent Chung Eui-sun.
Elliott owns around 3.0 percent of Hyundai Motor, 2.1 percent of Kia Motors and 2.6 percent of Mobis.
(Reporting by Liana B. Baker in New York and Hyunjoo Jin in Seoul; Additional reporting by Ankit Ajmera in Bengaluru and Heekyong Yang in SEOUL; Editing by Miyoung Kim and Darren Schuettler)