Only half-joking - Turkish satirical magazine shrinks as paper prices rise
Comments
By Reuters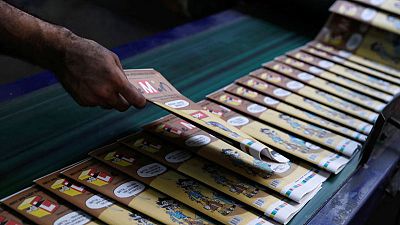 -
By Mehmet Emin Caliskan
ISTANBUL (Reuters) – Facing a steep rise in costs as the lira crashed and the price of imported paper soared, satirical magazine LeMan bucked the trend in Turkish media last week and left its cover price unchanged.
Instead it went to print a quarter of its usual size.
The edition was so popular that it went to press twice. This week, LeMan doubled its size, getting halfway back to the look of the original magazine.
"We found some more paper," it said on the front page. "We expanded with your support." A small victory-hand emoji stood next to the message.
The slump in the lira has driven up the cost of imported materials, raising concerns about the broader economy and hitting some industries particularly hard. Publishing costs have risen 80 percent, according to the head of Turkey's publishers' union, Kenan Kocaturk.
"The (increase) will have around a 25-40 percent impact on our prices for readers," he told a Turkish opposition television channel this week, adding a further weakening of the lira would drive costs even higher.
Turkey has imported paper since its only paper mill closed a decade ago, leaving publishers vulnerable to currency fluctuations such as the lira's 42 percent fall against the U.S. dollar so far this year.
Inflation is also on the rise, hitting 17.9 percent year-on-year in August, its highest level since late 2003.
LeMan took on the inflation as a "humorous challenge," said Editor-in-Chief Tuncay Akgun, describing conditions as excruciating.
"Even if you can come up with the money, paper suppliers are not eager to take the papers out of storage because it is not clear what the price will be in two hours."
Akgun said LeMan had reached the stage of possible closure and he could not offer a long-term view of its prospects. "When I say future, I am talking about next week," he said.
"Will the newspapers also shrink in the coming days? Will they fall to pocket size?" said Meral Ozdemir, a LeMan reader. "I look at LeMan now and it's a shame. I am really upset because it is so small. Will it dwindle further?"
(Additional Reporting by Yesim Dikmen and Tuvan Gumrukcu, Writing by Sarah Dadouch; Editing by Dominic Evans)