Online mole hunt? Gamblers bet on author of NY Times 'resistance' op-ed
Comments
By Reuters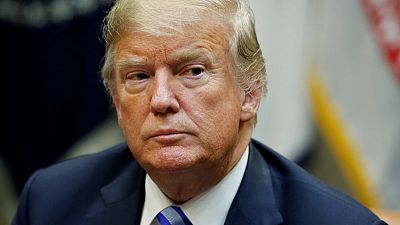 -
By Gina Cherelus
(Reuters) – Dan Coats, Mike Pence and Kirstjen Nielsen were among the favorites on Thursday among political gamblers taking an online stab at predicting which senior Trump administration official authored a scathing anonymous column in the New York Times.
Coats, the director of national intelligence, was seen as having an 18 percent chance of being the writer who said senior officials are part of a "quiet resistance" in the administration, according to PredictIt.org, an online market for betting on political events.
Vice President Pence was listed in second place with a 12 percent chance, while Homeland Security secretary Nielsen came in third with 10 percent. Players can also bet "no" for each choice. The "no" bets will win if the author is not identified by the end of this year.
The market was slowly attracting participants and the top rankings were expected to fluctuate as it picked up steam, said a spokeswoman for PredictIt, Brandi Travis.
"We had so many traders asking us if there's a market on this," Travis said. "It was definitely something that was in high demand. I think it's going to get a lot of action in terms of trades."
Coats and Pence, along with Secretary of State Mike Pompeo and Defence Secretary James Mattis, have denied writing the article which was published on Wednesday and sent shockwaves through Washington.
President Donald Trump blasted the anonymous author and the newspaper. The column fueled more accusations by critics that the Republican president was unstable and unfit for the Oval Office.
PredictIt's market, which went live at 11 a.m. EDT and was titled, "Who will NYT confirm as anonymous op-ed author in 2018," listed 19 senior officials as possibilities. Betting was scheduled to run until midnight on Dec. 31, 2018.
If the author is not identified by the newspaper or an authorized representative by then, the market would close and traders who bet "yes" would automatically lose, Travis said.
"Each of them are individual markets," Travis said. "Whoever bet 'no' will win."
"This will be one of the all time great markets," wrote trader Dennis Cao in the site's associated 'comments' section.
(Reporting by Gina Cherelus in New York; Editing by David Gregorio)