Macron takes election dig at Merkel's party over Hungary
Comments
By Reuters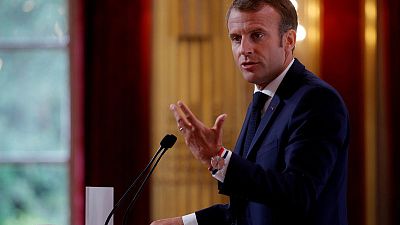 -
By Marine Pennetier
LUXEMBOURG (Reuters) – French President Emmanuel Macron took a rare public dig at German Chancellor Angela Merkel on Thursday by questioning her party's ties with Hungary's right-wing leader as the EU prepares for an election next year.
He was speaking after talks in Luxembourg with the three Benelux prime ministers, who share his "progressive", centrist agenda and came a day after Merkel backed a German ally to lead a conservative bid for the post of EU chief executive following a European Parliament election next May.
Asked if Merkel's allegiance to the European People's Party and that party's continued embrace of Hungarian Prime Minister Viktor Orban, a sharp critic of Macron's liberal stance, posed a threat to his efforts to rally pro-EU opposition to nationalist forces, Macron said the EPP should "clarify its positions".
He also launched a new attack on what he called Orban's abuse of democracy and the rule of law, further staking out what is shaping up to be an EU campaign platform of taking on eurosceptic populists as these have gained support.
Macron stressed that Merkel, a vital ally for the president in his quest to deepen EU integration, was a committed partner. But, he said, the EPP, the biggest bloc in the EU legislature, could not support Merkel and also Orban, who has criticised her welcome for refugees as part of his efforts to curb Brussels' powers.
The EPP, of which Merkel's Christian Democratic Union is a pillar, has resisted calls – including from some of its own members – to expel Orban's Fidesz party or to support a move to sanction Budapest that will be debated in the European Parliament next week.
The EPP and Merkel say that it is vital to maintain links and dialogue with the Hungarians.
Macron called on the EPP to support a vote next week to seek penalties against Hungary and later told a town hall debate in Luxembourg on the future of Europe that fellow Europeans must step up pressure on the likes of Hungary and Poland, which both face accusations from Brussels of undermining the rule of law.
"We have been too slow, too ready to compromise," Macron said. "We have to be much tougher on these issues."
(Reporting by Alastair Macdonald in Brussels; Editing by Janet Lawrence)