La Liga games in U.S. 'make sense' - NBA's Gasol
Comments
By Reuters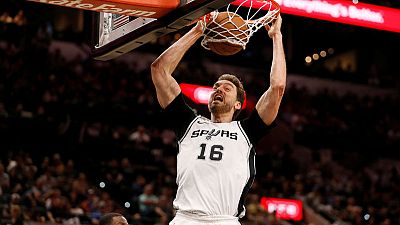 -
By Richard Martin
BARCELONA (Reuters) – San Antonio Spurs' Spanish basketball player Pau Gasol says he supports La Liga's plans to play one top flight Spanish soccer game per year in the United States, although he believes local supporters should be compensated for missing a home match.
According to widespread reports in the Spanish media, Girona will face champions Barcelona on Jan. 26 in Miami as part of a previously announced 15-year partnership between La Liga and U.S entertainment company Relevent.
La Liga declined to comment on the reports that Girona's game with Barcelona has been chosen as the first match in the U.S..
"To me the internationalisation of La Liga and playing a game in the United States is an interesting idea and one that should be taken seriously," Gasol said at a presentation of his autobiography in Barcelona on Thursday.
"I don't know if it distorts the competition but I think there must be a long-term plan and fans need to be compensated."
According to a report in Spanish newspaper AS on Thursday, Girona will receive 4.5 million euros (4.1 million pounds) for the game, while 1,500 fans will be given free air travel to Miami.
Five thousand Girona fans will also be given free tickets to Girona's game at Barca at the Nou Camp on Sept. 23, according to the report.
"The NBA has been organising games outside of the U.S. for several years, I played in Mexico two years ago and they play two games in London each year and there's no controversy because it's the decision of the league," added Gasol
"In football's case it's an expansion strategy. It's the most important market of the world and it makes sense if the players and clubs see it like this. It's a break with tradition, but the world is more globalised now."
The game in Miami must still be approved by the Spanish Football Federation, the United States Soccer Federation and by European governing body UEFA and finally by world body FIFA.
Spain's players union has expressed its opposition to the plans, which have been largely met with enthusiasm in Spanish media.
Barcelona spokesman Josep Vives said on Wednesday that playing a game in the States "benefits everyone".
"The date hasn't been set, it's not confirmed, but the club believes the arrangement is strategic," Vives told reporters.
"It benefits everyone in every sense, everyone can get rich from this, from the clubs to the players to the sponsors."
(Reporting by Richard Martin; Editing by Toby Davis)