ExxonMobil latest foreign major to invest in petchem plant, LNG terminal in China
Comments
By Reuters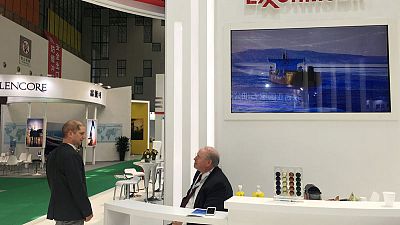 By Josephine Mason and Chen Aizhu
BEIJING (Reuters) – ExxonMobil Corp <XOM.N> said on Thursday it has signed a preliminary deal to build a petrochemical complex and invest in a liquefied natural gas (LNG) terminal in China, the latest major foreign investment in the world's top chemicals market.
The agreement worth several billion dollars with the southern Guangdong provincial government includes a 1.2 million-tonne-per-year (tpy) ethylene plant, two polyethylene production lines and two polypropylene lines in the coastal city of Huizhou, it said.
Exxon also agreed to participate in a provincial project to build an LNG terminal in Huizhou and to supply LNG for it, it said. No details about the capacity of the project were given.
China is allowing greater access by global majors and local independents to its massive chemicals market to feed plastics, coatings and adhesives to the fast-growing consumer electronics and automotive sectors.
Exxon would be one of only a few international oil majors to invest in LNG infrastructure in China as the country tries to shore up supplies amid a switch to gas-fired boilers by factories and households as part of the government's battle against smog.
The news comes after German chemical giant BASF <BASFn.DE> announced plans in July to invest $10 billion to build China's first wholly foreign-owned chemicals complex, also in Guangdong. The project includes a steam cracker producing 1 million tonnes a year of ethylene.
Details of the ownership structure of Exxon's chemical plant and LNG investment were not released on Thursday.
Still, the deal could be seen as a goodwill gesture by China amid a deepening trade war between the United States and China as the world's top two economies have traded tit-for-tat punitive tariffs that target $50 billion of each other's goods.
Washington was holding hearings this week on another round of proposed duties on $200 billion worth of Chinese imports that appear likely to take effect in late September or early October.
The deal comes a day before a planned meeting in Beijing between Chinese Premier Li Keqiang and Exxon chairman and chief executive Darren Woods.
The preliminary deal was signed with the local governments of Guangdong province and Huizhou as well as state power company, Guangdong Yuedian Group, according to the Guangzhou Daily.
Woods was at a signing ceremony with provincial party secretary Li Xi and governor Ma Xingrui, the paper said.
Exxon said it is also looking at other chemicals manufacturing projects in Asia to help meet expected demand growth in the region.
The company signed a joint study with the Huizhou government on building a petrochemical plant in late 2017.
Exxon said on Thursday that a decision to proceed with the project will be based on a number of factors, including the receipt of permits and project competitiveness. Startup is planned for 2023.
It already owns a 25-percent stake in a refinery and petrochemical plant in Fujian in partnership with China's top state refiner Sinopec.
(Reporting by Aizhu Chen and Josephine Mason; editing by Joseph Radford and Richard Pullin)