Benfica reject corruption charges, vow to clear name
Comments
By Reuters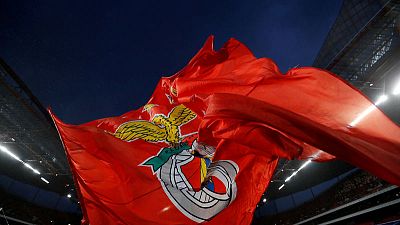 LISBON (Reuters) – Benfica, who were charged with corruption by Portuguese prosecutors earlier this week, have labelled the allegations groundless and vowed to prove their innocence.
The club are accused by prosecutors of prying into judiciary records and if convicted in court, Portugal's penal code states they could be suspended from competition from between six months to three years.
They could also lose public subsidies and face other sanctions.
Club President, Luis Filipe Vieira, read out a statement to reporters late on Wednesday saying Benfica would defend their reputation "in an uncompromising manner" and that the charges contained "not a single fact, not even circumstantial evidence, that would implicate Benfica".
"The accusation does not minimally change our certainty of the total legality of Benfica SAD's acts and behaviour, be it in this or other processes," he said, adding that "the legal institutions will clear Benfica's good name".
Vieira was named a formal suspect in a corruption investigation earlier this year. That probe, however, is not related to the club.
Prosecutors on Tuesday charged Benfica SAD — the sports club that encompasses the country's most successful soccer team — the club's legal adviser and two judicial employees with a long list of offences, including corruption and "infringing the secrecy of justice".
They are alleged to have conspired to tap into the judiciary's electronic records system and receive information about various investigations involving Benfica, and rivals such as Sporting and Porto, over the past two years.
A judge is yet to decide whether to accept the prosecutor's case against Benfica — the country's most popular club by membership — or against the individuals.
The Portuguese Football Federation has ordered its own investigation, based on the information provided by the prosecutor's office, to determine whether any sporting offence has been committed.
That could lead to disciplinary action such as a points deduction in the Portuguese championship or even relegation.
(Reporting By Andrei Khalip; Editing by Toby Davis)