With Yemen in turmoil, U.N. to launch first peace talks in two years
Comments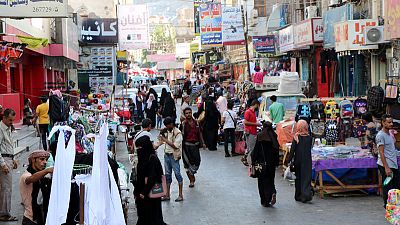 -
By Stephen Kalin and Tom Miles
RIYADH/GENEVA (Reuters) – Warring Yemenis due to attend the first peace talks since late 2015 on Thursday face an uphill struggle to rescue attempts to end a war marked by mass civilian casualties and fuelled by rivalry between regional heavyweights Saudi Arabia and Iran.
U.N. Special Envoy Martin Griffiths wants Yemen's government and the Iranian-aligned Houthi movement to work towards a deal to end the war, remove foreign forces from Yemeni territory, and establish a national unity government.
A Saudi-led coalition of Sunni Muslim Arab states backed by Western powers, including the United States and Britain, intervened in Yemen's civil war in 2015 against the Houthis to restore the internationally recognised government of President Abd-Rabbu Mansour Hadi. Subsequent peace talks flopped.
Since then the humanitarian situation has worsened dramatically, putting 8.4 million people on the brink of starvation, triggering the world's worst cholera epidemic, and wrecking the already weak economy.
Nobody knows how many people have died: the U.N. lost count more than two years ago, after 10,000 civilians were killed.
Mohamed Ali al-Houthi, the head of the Houthi supreme revolutionary committee, wrote on Twitter on Tuesday that the negotiators at the U.N.-mediated discussions must take a resolute stand against the humanitarian impact of the war.
"I call on the delegation of the Yemeni people, if they are allowed to reach Geneva, to protest by refusing to begin the consultations until the nations commit to putting in place urgent economic solutions to confront the deterioration of the rial and rising prices due to the American-Saudi economic aggression against Yemen," he wrote.
In the capital Sanaa, Yemeni citizen Khaled al-Hosly told Reuters it was a "failed dialogue".
"This is a futile dialogue because the planes are over our heads, the prices are going up, the dollar is going up, the [Saudi] rial is going up, all the currencies are going up and the [Yemeni] people are starving."
BIGBANG
Griffiths has already used the prospect of talks to forestall an attack by the Saudi-led coalition on Hodeidah, a port city and Yemen's main supply line.
Aid workers say a full-blown assault on the port would be a catastrophe, and Griffiths has been in talks with the Houthis to hand control of the port to the U.N. to avert an assault.
A draft U.N. peace plan seen by Reuters in June calls on the Houthis to give up their ballistic missiles in return for an end to the Saudi-led bombing campaign and a transitional governance agreement.
Peter Salisbury, senior consulting fellow at Chatham House, said the likely aim of the Geneva meeting was to get agreement on a framework peace plan, not side deals on the economy or Hodeidah.
"The working theory right now seems to be that everything has to be sorted in one big bang, you can't sort of isolate issues and get deals on them one by one, you have to have this one packaged deal."
Anwar Gargash, Minister of State for Foreign Affairs of the United Arab Emirates, part of the Saudi-led coaltion, took to Twitter to welcome the peace talks and to urge all sides to engage constructively.
"U.N. envoy Martin Griffiths deserves special praise," Gargash wrote.
"His enthusiasm & drive made these talks possible. Coalition's use of legitimate military force always intended to support political solution & (U.N. Security Council resolution) 2216. Long way to go. But Geneva can bring outcome nearer."
(Writing by Tom Miles, reporting by Stephen Kalin, Editing by William Maclean)
euronews provides breaking news articles from reuters as a service to its readers, but does not edit the articles it publishes. Articles appear on euronews.com for a limited time.