United States top, Britain second in financial activity - think-tank
Comments
By Reuters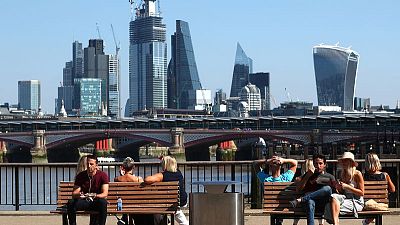 -
By Huw Jones
LONDON (Reuters) – The City of London continues to dominate financial activity in Europe and remains far ahead of European Union rivals such as Paris and Frankfurt with just months to go before Brexit, a new study showed on Wednesday.
Think-tank New Financial' s study, which focuses on the "raw" value of actual domestic and international financial activity like managing assets and issuing equity, underscored the overall dominance of New York as the world's top financial centre.
It gave the United States the top overall score of 79 out of 100.
Britain was in second place with a much lower score of 40, though still well ahead of other European countries that are hoping to attract some of London's financial business after Britain leaves the European Union next March.
"While post-Brexit relocations by banks and asset managers may dent that position at the margin, other financial centres in Europe have a huge amount of ground to catch up," William Wright, New Financial's managing director, said.
For graphic on the top financial centres, click on https://reut.rs/2NexXgS
When it comes to international activity, which is most at risk from Brexit, the UK is even more dominant: its score of 46 out of 100 is nearly double that of Luxembourg, and more than three times higher than Germany and France, the survey said.
EU regulators have told banks in London to licence new hubs ahead of Brexit, and it is unclear how much access the City will have to the bloc's financial market in future.
Britain has warned the EU that its companies will suffer from higher financial costs and market fragmentation if the City is cut off from the continent.
Meanwhile, the EU is putting in place reforms to create a capital markets union (CMU) and replicate the City to some extent, but progress is slow.
"In light of Brexit, it underlines the urgency for the rest of the EU of pushing ahead with the capital markets union project to develop bigger and deeper capital markets," Wright said.
When New Financial looked at qualitative factors like political stability, laws and quality of life, Switzerland came out top, followed by Luxembourg and Ireland.
For graphic on the top financial centres ranked by qualitative factors, click https://reut.rs/2oGdQu1
The annual Z/Yen Partners survey in March put London in top spot, just ahead of New York, with no continental European centre in the top 10. It looked at how business friendly the cities are and if their infrastructure is up to scratch.
(Reporting by Huw Jones, Editing by Catherine Evans)