Top U.S. regulator calls for 'reset' in relations with other countries
Comments
By Reuters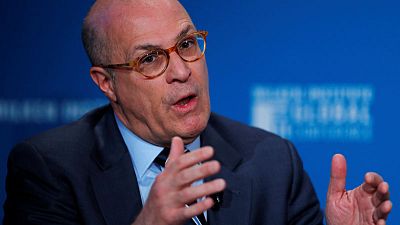 -
By Huw Jones
LONDON (Reuters) – How the United States supervises cross-border derivatives is flawed and needs resetting to avoid fragmenting markets and placing undue burden on companies, a top U.S. regulator said on Tuesday.
In a speech that will be widely seen as targeting the European Union, Commodity Futures Trading Commission (CFTC) Chairman Christopher Giancarlo said the agency was guilty of overreach by regulating firms that were not based in the United States but did business with U.S. customers.
He said it was not surprising the foreign regulators did the same.
This "overly expansive, unduly complex" approach has shown insufficient deference to other countries even though they comply with the same international standards applied in the United States.
The CFTC will soon publish a "White Paper" setting out a more thoughtful "next act" for regulating the cross border swaps market, Giancarlo told an audience in London's financial district.
"In a number of areas, the White Paper will recognise deficiencies in the CFTC's current approach to regulating cross-border activities and seek to recalibrate the CFTC's cross-border approach based on a set of guiding principles," he said.
"The CFTC should pursue multilateralism, not unilateralism for swaps reforms that are designed to mitigate systemic risk," he said.
Giancarlo said the aim was to spur dialogue among CFTC commissioners before a final decision was taken. He said he was meeting with regulators in the EU and Japan later in the week.
The next version of CFTC cross-border rules would focus better on addressing systemic risks from foreign firms to the U.S. financial system, leaving supervision of trading practices and market structures like clearing houses to their home supervisor, he said.
Scott O'Malia, a former CFTC commissioner and now chief executive of global derivatives industry body ISDA, said he welcomed the thoughtful, risk-based approach.
Giancarlo's pledge follows CFTC criticism of overreach in a draft EU law that would give EU regulators a role in supervising U.S.-based clearing houses that service customers in the bloc, encroaching on the CFTC's turf.
Giancarlo has said it should be amended to avoid harm to U.S. businesses, saying the EU should defer to the CFTC when it comes to supervising American clearing houses.
"I have been pretty firm with our friends in Brussels, the notion that there would be two sets of hands on the steering wheel is not something that we would support," Giancarlo said on Tuesday.
BREXITBOOST?
Giancarlo said an approach based on deference when it comes to margin, trading venues, clearing houses or other areas was essential to ensuring a strong and stable derivatives market that supports economic growth within and outside the United States.
The call for a "deference"-based approach between regulators from different countries will be welcomed by Britain in its bid to maintain London as Europe's biggest centre for clearing euro-denominated derivatives after leaving the EU next March.
Financial industry officials in the City are seeking to enlist global support to persuade the EU to "enhance" or broaden its system of financial market access in time for Brexit.
But France has said large chunks of euro clearing should move to the euro zone after Brexit so that EU regulators can supervise the activity properly.
Britain says this is not necessary as it will still be complying with the same international financial rules as those enforced in the bloc.
Asked if the CFTC would implement the new approach unilaterally, Giancarlo said the agency would be "very cognisant" of what foreign regulators do before deciding whether to defer to them. He declined to give any timeline.
(Reporting by Huw Jones; Editing by David Evans and Edmund Blair)