Osaka and Nishikori blaze trail to U.S. Open quarters
Comments
By Reuters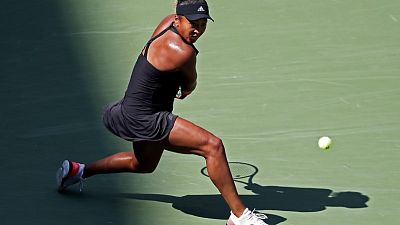 By Steve Keating
NEWYORK (Reuters) – Naomi Osaka and Kei Nishikori blazed a trail into the U.S. Open quarter-finals on Monday putting a Japanese man and woman in the last eight together at Flushing Meadows for the first time.
The breakthrough also marked the first time that a Japanese man and woman made the quarter-finals of any Grand Slam since Kimiko Date and Shuzo Matsuoka at the 1995 Wimbledon.
On a sun-baked Louis Armstrong Stadium court, Nishikori began an historic afternoon by outclassing Philipp Kohlschreiber 6-3 6-2 7-5 before handing the stage over to Osaka, who tamed Aryna Sabalenka 6-3 2-6 6-4, then walked off unaware of what had been accomplished.
"No," smiled Osaka when informed of the U.S. Open first. "I'm glad I was able to be a part of something like that today.
"I always thought if I can keep up with him (Nishikori), that would be really cool."
Matching Nishikori's results on the court may prove far easier than keeping pace with the popular athlete when it comes to endorsements.
Despite having never won a Grand Slam, just 11 career tournaments and none since 2016, Nishikori is in the same league as Grand Slam kings Roger Federer and Rafa Nadal when it comes to pitching products.
Federer, the winner of a record 20 Grand Slams, is the best paid tennis player at seventh on Forbes' 2018 list of highest paid athletes, having earned $77.2 million, including $65 million from endorsements.
Nadal, whose resume includes 17 Grand Slams, sits 20th on $41.4 million while Nishikori checks in as tennis's third highest earner with $36.4 million, matching Welsh soccer player Gareth Bale in the rankings.
When it comes to endorsements, Nadal's $27 million is no match for Nishikori, who pockets $33 million off the court.
OSAKASTOCKRISING
Just 20-years-old and playing in her first Grand Slam quarter-final, the charismatic Osaka could soon find herself in a similar situation keeping company with women's endorsement titans Serena Williams and Maria Sharapova.
Osaka's stock is clearly on the rise.
She collected her first career win at Indian Wells earlier this year and came into Monday's fourth round U.S. Open clash having won 22 consecutive games.
"Every time I play a Grand Slam, people ask me am I going to go farther than the third round," said Osaka, the first Japanese woman in the U.S. Open last eight since Shinobu Asagoe in 2004.
"Then in Australia I went to the fourth round, then people were like, are you going to go farther than that or is that where you're going to stop?
"I've always dreamed of playing here and going to the quarter-finals and further. So I'm just glad I could do one of my goals."
Next up for Osaka is Ukraine's 36th-ranked Lesia Tsurenko.
While Nishikori has never won a Grand Slam he has been to a final, losing the 2014 U.S. Open to Marin Cilic.
Four years later a resurgent Nishikori, fighting his way back from injuries, will get his shot at revenge when he takes on the big-hitting Croatian for a spot in the last four.
"This year is easy for me, because I don't expect any big result," said Nishikori. "I try to play one match at a time. This week it's been great.
"Every match I been playing really good tennis, and, well, maybe I had more pressure few years ago.
"Right now I don't have any pressure, but also enjoying playing every match and enjoying playing tennis again little more than before."
(Editing by Ian Ransom)