Williams sister act extended to 30th meeting
Comments
By Reuters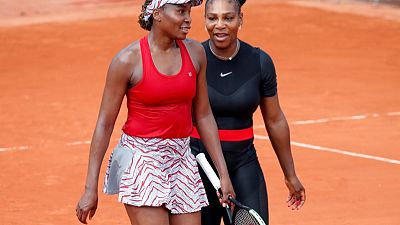 -
By Steve Keating
NEWYORK (Reuters) – It takes something special to grab the spotlight on a Friday night in the Big Apple but few contests attract more attention than Williams v Williams and the tennis sisters have New York buzzing as they prepare to clash for a 30th time.
A fascinating sibling rivalry that spans two decades will be renewed at the U.S. Open under the Arthur Ashe Stadium floodlights when Serena and Venus Williams meet in a third round contest.
It will mark the sixth time the sisters have stared down each other at Flushing Meadows, including twice in the final.
"We're use to it now," said Serena, as the hype machine shot into overdrive following their second round victories on Wednesday. "I never would have thought that we would still be playing professional."
Williams v Williams matches are complex and nuanced, filled with equal amounts of tortured angst and unbridled joy.
Asked if she could have all her titles and Venus all hers without having ever had to play each other, Serena said she would happily accept that deal.
But in that bargain the Williams would have been deprived of a rivalry that elevated their careers and fans a contest that lifted the sport.
"Unfortunately and fortunately we have to play each other," said Serena. "We make each other better.
"I feel like throughout our career, we have pushed each other to be the best that we can be.
"We bring out the best when we play each other.
"It's what we do."
Their tennis storyline that weaves its way through 20 years began in 1998 when the pair looked across the net at each other for the first time as professionals at the Australian Open.
When they walk out onto centre court on Friday, surely in the autumn of their careers, Serena will have assumed top billing.
She has 72 career titles, including 23 grand slams and more than $86 million in prize money while Venus has 49 trophies, seven grand slams and almost $41 million in earnings.
Head to head Serena leads 17-12.
Their clashes have delivered heart-pounding drama but just as often disappointed, unable to rise to the towering expectations as the competitive instincts that have made them two of the all-time greats appears to burn with less intensity whenever they face each other.
"I never root against her, no matter what," said Serena. "I think that's the toughest part for me.
"When you always want someone to win, to have to beat them. I know the same thing is for her.
"When she beats me, she always roots for me as well.
"I think that's just the hardest part."