Indonesian family questions police killings in run-up to Asian Games
Comments
By Reuters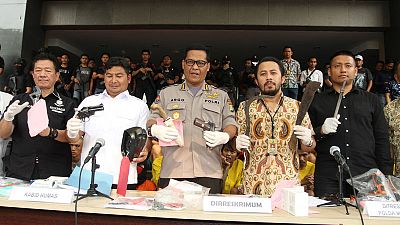 By Agustinus Beo Da Costa and Kanupriya Kapoor
JAKARTA (Reuters) – While many Indonesians have been cheering on the athletes at the Asian Games, which began in their country on Aug. 18, some have been mourning loved ones killed in a security crackdown aimed at ensuring a trouble-free sports festival.
Police killed at least 11 people in the run-up to the games, which finish on Sunday, in a brazen campaign against crime that has shocked human rights groups 20 years after democracy was ushered in after decades of authoritarian rule.
At least one bereaved family is demanding answers over the death of their relative at the hands of police, who provided few details about how and why the young man was killed.
"I believe he was tortured and shot," said a close relative of the victim. The relative declined to be identified, citing security worries.
Reuters could not independently verify the details of the shooting.
The victim had a criminal record and had spent time in jail, but family members described him as "loyal and helpful".
Police returned the body in a closed casket and seemed intent on preventing the family from examining it, the relative said.
But they did and found that the dead man had a sewn-up gunshot wound near his heart, bruises on his face and what they took to be cigarette burns on his arms.
Police told Reuters the suspect was shot after he tried to "grab an officer's gun" as he was being led to another suspect's house. They did not explain the other injuries.
Andreas Harsono, Indonesia researcher at Human Rights Watch, said a failure to investigate such killing would "reinforce a deeply rooted culture of impunity in Indonesia".
During preparations for the games, Indonesia suffered its deadliest militant attack in more than a decade, when suicide bombings killed at least 30 people in the city of Surabaya, putting the country on edge.
While anti-terrorism authorities focused on the militant threat, police made no bones about their aim to prevent ordinary crime from marring the biggest multi-sport event outside the Olympics.
'JUSTSHOOTTHEM'
National police chief Tito Karnavian ordered his officers in early July to "act firmly and quickly" even against petty criminals in advance of the games.
"If they resist, shoot them. Don't hesitate, just shoot them," the Antara state news agency quoted Karnavian telling an Asian Games security coordination meeting.
The month-long crackdown was focused on the capital, Jakarta, neighbouring cities and South Sumatra where games venues were also located.
Dozens of suspects were shot, at least 11 of them died, according to police figures. Some rights workers and media have put the death toll higher.
Hundreds of people were detained – all on suspicion of carrying out petty crimes like stealing motorcycles or pickpocketing, police said.
Jakarta police spokesman Argo Yuwono has said the force acted according to standard procedure and suspects were only shot if deemed "a danger to officers or to other people".
But Indonesia's ombudsman has questions.
"There are irregularities and we have questions that need to be answered," said Nyoto Budi, coordinator of investigations at the ombudsman, which has no legal authority over the police but can recommend prosecution.
The ombudsman has asked police for details of the killings, including forensic reports, the identify of officers involved and investigation files.
The bereaved family that Reuters contacted submitted an anonymous complaint to the national commission of human rights this week, with the help of the Jakarta Legal Aid Foundation.
A police spokesman did not respond to requests for comment on the complaint.
The victim's relative said that on the day of his death, police handed the family an envelope that an officer said contained a "compassionate donation".
But the family refuses to open it.
"I can't accept his death until I get the truth," the relative said.
(Additional reporting by Gayatri Suroyo; Editing by Ed Davies and Robert Birsel)