Indonesia-Australia push economic ties, trade deal soon
Comments
By Reuters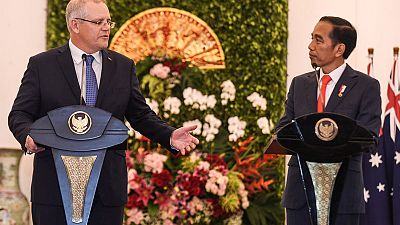 -
By Agustinus Beo Da Costa
BOGOR, Indonesia (Reuters) – The leaders of Indonesia and Australia on Friday concluded talks on an economic partnership to boost trade in areas ranging from cars to cattle, as well as relaxing controls on investing in services such as education in the Southeast Asian nation.
Australia's new prime minister, Scott Morrison, met President Joko Widodo at the Bogor palace south of Jakarta on his first overseas trip since taking office last week after winning an internal party leadership challenge.
"Indonesia has the honour of being the first country visited by the prime minister. This can be interpreted as a strong commitment by the Australian prime minister to build strong relations," Widodo told a joint news conference.
Morrison said the neighbours were already close partners in the security field, "but it is the economic relationship where we have committed today to take another big step".
He said negotiations on the Indonesia-Australia Comprehensive Economic Partnership (IA-CEPA) had been successfully concluded and the accord should be signed by the end of the year.
The Asian neighbours have been in prolonged trade talks since early in the decade, with diplomatic tensions between the two sides occasionally stalling the negotiations.
Although Indonesia is Southeast Asia's largest economy and Australia the 13th largest in the world, their trading relationship is limited and neither count the other as a top partner.
Boosting exports, including by securing market access for Indonesian products through FTAs, is also a priority for Widodo's government as it tries to put a floor under the country's falling rupiah currency.
Australia was the 14th-biggest buyer of Indonesian exports in 2017, while Indonesia is Australia's 13th-largest trading partner, with Australia putting two-way trade at A$16.4 billion ($12 billion) in 2016-2017.
Only some detail on the accord were released but some 90 percent of Australian goods exported to Indonesia, by value, would enter duty free or "under significantly improved arrangements" under the deal, Australian Trade Minister Simon Birmingham said earlier on Friday, adding that was up from 85 percent under previous deals.
Birmingham listed frozen meats, live cattle, feed grains, dairy, citrus and rolled steel as examples of Australian products destined for favourable treatment under the deal.
Indonesia's maritime affairs minister Luhut Pandjaitan also told reporters the agreement covered Australian agricultural imports including cattle but "both parties must feel the benefits".
On Thursday, an Indonesian foreign ministry official said the agreement would free up Indonesia's university sector for Australian investors, allowing up to 67 percent foreign ownership. Foreign investors are currently barred from majority ownership in an Indonesian university
The visit to Jakarta is the first for Morrison and Birmingham in their respective new roles as prime minister and trade minister, since Malcolm Turnbull was ousted in a party leadership battle last week.
Relations between the two countries had warmed under Turnbull, who appeared to enjoy a good rapport with Widodo.
(Additional reporting by Gayatri Suroyo and Tom Westbrook in SYDNEY; Writing by Ed Davies; Editing by Simon Cameron-Moore)