Coca-Cola quickly brews up Costa 'Del Sol' deal with Whitbread
Comments
By Reuters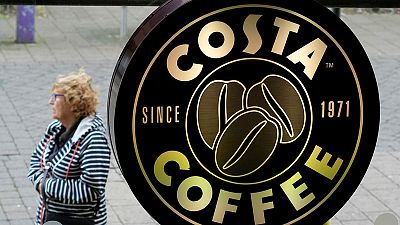 -
By Ben Martin, Pamela Barbaglia and Kate Holton
LONDON (Reuters) – The 3.9 billion-pound sale of the Costa coffee chain to Coca-Cola <KO.N> began brewing when Whitbread's boss Alison Brittain crossed paths with the chief executive of the soft drinks giant at a conference in May.
Brittain, who has led Costa-owner Whitbread <WTB.L> since December 2015, didn't know James Quincey before the Microsoft CEO Summit in Seattle.
"I hadn't met him before that," Brittain said on Friday. "It has been a very fast deal."
The deal was codenamed "Project Del Sol" – a pun on Spain's Costa del Sol holiday coast – by Coca-Cola and "Project Crimson" – an allusion to Costa's red branding – by the Whitbread team, according to a person familiar with the matter.
It completes a years-long streamlining of FTSE 100 leisure group Whitbread that will leave it focussed on its Premier Inn hotel chain.
It comes at a time when investor pressure had been mounting on one of Britain's oldest companies and the business had already been actively working on a demerger.
In December 2017, U.S. activist investor Sachem Head disclosed it had built a stake in Whitbread and the following month Reuters reported that the fund was pushing Brittain to consider splitting Costa from Premier Inn.
Elliott, another U.S. activist firm, then emerged as Whitbread's biggest shareholder in April with a stake of more than 6 percent and also began calling for a break-up of the group. The hedge fund was engaging with the leisure group in a "combative way," said a source familiar with the situation.
DEMERGERPLAN
Less than a fortnight after Elliott announced its stake and before Brittain met Quincey in Seattle, Whitbread announced it would spin off Costa into a separately listed company in a demerger that was planned to take up to 24 months.
That triggered interest in the coffee chain from potential buyers, Brittain said.
"Costa is a lovely company and therefore there were clearly suitors for that company and we didn't think any of them were wearing the right suit and driving the right car," she said, declining to identify the firms.
"We had always determined at the start, when we announced the demerger, that we would not be interested in a sale to financial companies but we would remain open to a strategic buyer such as Coca-Cola who could bring additional value for our shareholders, because of the synergies that they have."
Coca-Cola will be able to use its distribution network to considerably extend the reach of Costa brand.
While Costa has about 7,000 self-service machines in Britain and about 1,000 overseas, as well as its coffee shops, the U.S. giant has millions of vending machines around the world that it could use to sell Costa products.
Coca-Cola made its first formal approach to Whitbread in late June and the negotiations progressed quickly, with a deal signed at 6.52 on Friday morning, eight minutes before it was announced to the stock market, Brittain said.
She kept pushing for a higher price even after entering exclusive talks with the soft drinks giant and wouldn't surrender to a low-ball bid, a source close to the company said.
The U.S. group's interest in Costa pre-dated the demerger announcement and the fact that Quincey, who took charge of Coca-Cola in May last year, is British would have helped to put the coffee chain on the soft drinks company's radar, the Whitbread boss added.
"They have been scanning for a coffee acquisition and they have been doing work on Costa for quite some time," she said.
SHARESJUMP
Whitbread shares closed up 14.3 percent on Friday in London as analysts praised the price tag that Costa had fetched, which values the chain at 16.4 times its latest annual earnings.
Elliott said that it "congratulates the board of Whitbread on this proposed transaction and looks forward to continuing to engage with them to maximise the value of the remaining businesses."
Scott Ferguson, managing partner and portfolio manager at Sachem Head, said that his fund was "very pleased with the transaction and credit management and the board for thoughtfully maximizing value for shareholders."
The deal brings to an end Whitbread's history as a conglomerate in the leisure sector.
While the bulk of the proceeds will be returned to shareholders, it will use some of the cash to pay down debt and address its 350 million-pound pension deficit, to give it the flexibility to continue expanding its Premier Inn hotels in the UK and Germany, which will become its main business.
Founded 276 years ago as a brewery by Samuel Whitbread and Godfrey and Thomas Shewell, Whitbread grew into a sprawling group that had interests spanning pubs, fitness clubs, casual dining chains and Costa, which it bought for 19 million pounds in 1995.
But it has slimmed down in recent years, exiting brewing in 2000 and David Lloyd Leisure clubs, the luxury Marriott hotel brand, TGI Fridays and Pizza Hut between 2006 and 2007.
As well as hotels, its remaining Premier Inn business also runs the Brewers Fayre and Beefeater pub and restaurant brands.
(Additional reporting by Martinne Geller and Maiya Keidan; Editing by Adrian Croft)