Walmart adds toys and shelf space for holidays, expands online offerings
Comments
By Reuters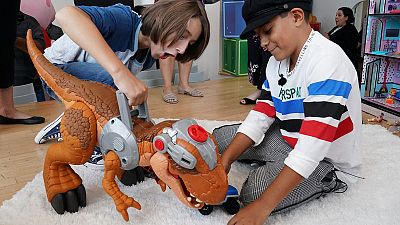 -
By Sheila Dang
(Reuters) – Walmart Stores Inc <WMT.N> has significantly increased the selection of toys in its stores and online for the holiday season, a company executive said on Thursday, and is expanding its toy aisles in certain markets, all to lure shoppers after rival seller Toys R Us went out of business earlier this summer.
The world's largest retailer will also begin its layaway program on Friday, one day earlier than last year, allowing customers to pay off purchases in installments.
The company expects demand for its layaway program to be similar to that of previous years, said Anne Marie Kehoe, vice president of toys, while at an event in New York to reveal the retailer's top toys for the holidays. Layaway plans can have a sizeable impact on sales and past analyst estimates suggest the program accounted for as much as 15 percent of holiday revenue at Walmart stores in poorer areas of the United States.
Walmart added 30 percent more new toys to its stores and expanded its online selection by 40 percent, including some toys that are exclusive to the retailer, such as the DC Comics Justice League Batmobile.
Kehoe said Walmart will monitor its inventory closely as it approaches the holiday season, as insufficient inventory of certain everyday items hurt sales last year.
The retailer also plans more than 2,000 in-store demos of toys, "a lot more" than last year, to let kids play with the items before parents decide to buy, Kehoe said.
Walmart's efforts may help its toys better compete in the holiday season against video games or streaming platforms like YouTube. It also hopes to fend off online retailer Amazon.com Inc <AMZN.O>, which is rumoured to be printing a toy catalogue for the first time this year, according to media reports.
Amazon did not immediately respond to requests for comment.
Kehoe said Walmart is focused on serving its customers, and "we've always had a toy catalogue and will continue to have one."
Walmart for the first time has partnered with kid "influencers," or children who review toys on social media, to help narrow the list of the top toys for the holidays.
Toy sales in the United States were up 7 percent in the first half of 2018 from a year earlier, according to the NPD Group.
(Reporting by Sheila Dang; Editing by Steve Orlofsky)